アンデス実走行程 cycling andes - tips for next chellengers

Three of the members had a biking trip in the andes february and march, 2018.
I hope this article helps you planning your next cycling.
The route is as the map.
この春に、部員3名がアンデス山脈(チリ、アルゼンチン)を自転車で走ってきました。実走ルートは以下の通りです。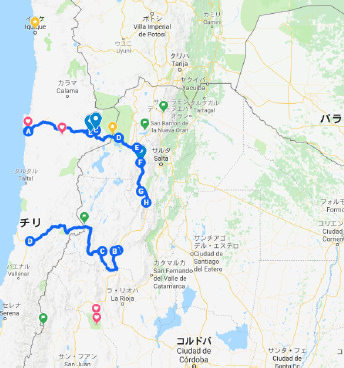 Part1. Crossing the Atacama desert アタカマ砂漠横断
Part2. Paso Sico, from chile to argentina Paso Sico越え
Part3. Abra del Acay and Ruta40 アカイ峠とアルゼンチン国道40号
Part4. Paso San Francisco, argentina to chile サンフランシスコ峠
Part1. Crossing the Atacama desert
day1 antofagasta to baquedano
We woke up so early at the airport to assemble our bike, but it was already 9 when we left there. First we went to the sea and touched it; the altitude 0m point.
Some small bike parts seemed to be lost in the plane, so we had to spend some time in the antofagasta city. Oxford bike, a bike shop in antofagasta, has good variety of parts.
We expected the road condition from baquedano to be gravel, 200k, so planned 3 days to peine. For the desert crossing, we loaded up with so much food...4 kilos of bread(for each person!), 13 fracs(chilean oreo), tuna, cheese, apples etc, which was too much.
チリ入国最初の夜はアントファガスタの空港泊でした。5時くらいに起きて自転車を組み立てましたが、出発は9時ごろに。まずは市街地に向かいます。途中標高0m(海)に寄りました。キャリアのパーツがなくなっていたりしましたが、アントファガスタの自転車店「OXFORD BIKE」で解決。
スーパーでアタカマ砂漠横断のための食料を買い込みます。200kmのダート走行を見込んで1人当たりパン4kg、クッキー13袋、ツナ缶、チーズ、リンゴ。重すぎる。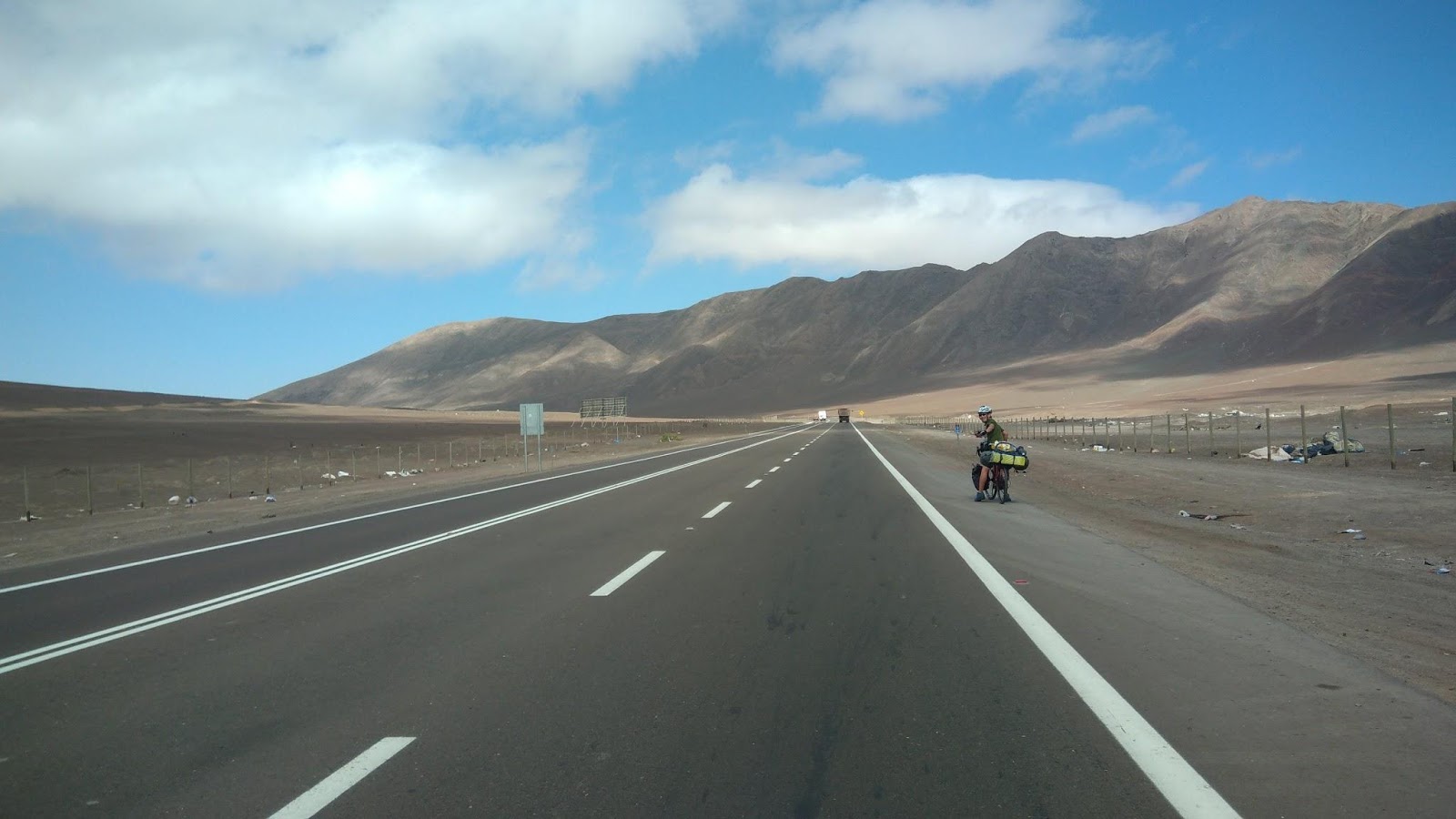 Finally it was already 3 pm when we left the city, but we decided to get to baquedano within that day. In the first 10k the climb was so steep but after that the road was flat and we had tailwind. The road was all well-paved. We arrived at baquedano at 8, and bought 12L of water for each. Then we had dinner of chicken with rice and chicken soup, and juice!! The sun was so strong that day and we were so thirsty that we emptied two pitchers. The restaurant let us stay in their backyard. The sky was full of stars.
なんだかんだ買い物していると15時。しかしその日のうちにダート開始地点の村バケダノまでは行きます。最初の10kmは相当きつい上り坂でしたが、そのあとはフラット&追い風で走りやすい舗装路でした。しかし暑くてやってられない。バケダノについたのは夜8時(まだ明るい)。まず4日分の水を買います。しめて12L。村の食堂みたいなところで(しばらく食べることはないだろう)まともな夕食。チリでポピュラーな肉と米とジャガイモのプレートとスープでした。出てきた冷たいジュースを貪る一同・・・正直メシより水分。3人でピッチャー2つ干しました。この後食堂の横でテンバらせてもらいました。
day2 baquedano to somewhere in the desert
After breakfast of pan con queso(cheese sandwich) at the restaurant, the desert section started. We expected the road to be gravel, it was paved...actually, the road was all paved to peine, although the quality varies.
昨夜の食堂でパンとチーズの朝食をいただき(昨日の夕食と同じ値段でコレ??って感じでしたが)、砂漠横断スタートです。幸か不幸かダートにならない。結局ゴールのペイネまで、ぼっこぼこでダート以下みたいなところもありましたが全て舗装されてはいました。しかし暑い。早く標高上がってくれと思ってました。水も消費激しい。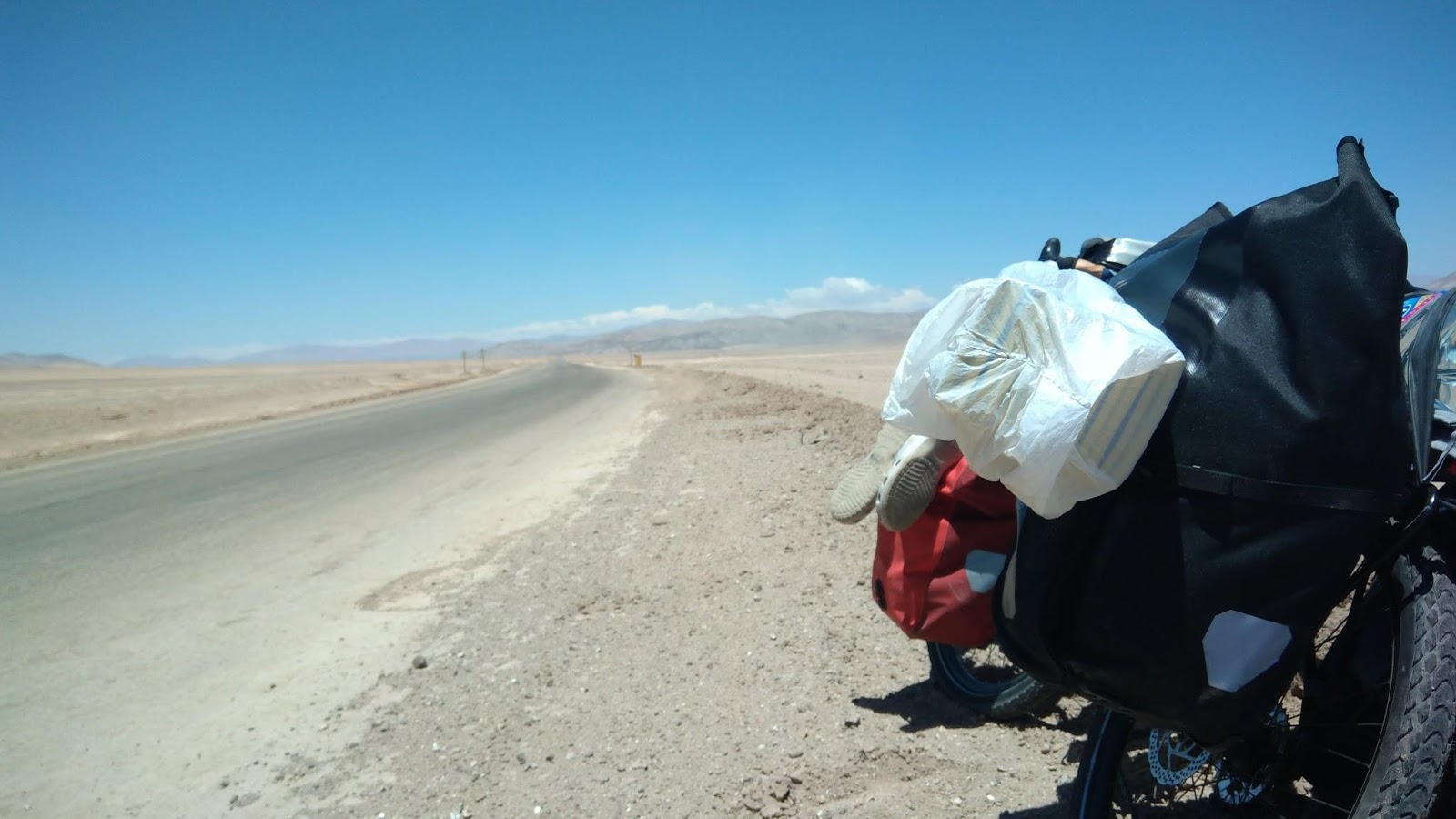 On the long climb to the high point of 2400m, a truck stopped in front of us and the driver gave us a bottle of cold coca-cola. We cheered and repeated gracias, one of our poor spanish vocabulary.
It was extremely hot and the bike was extremely heavy with food and water, it was so hard that day. We decided to call it a day at 100k point and pitched our tent in a trench which seemed to be a dried river. After a dinner of bread, cheese and vitamin tablet, we got into the sleeping bag. The sky was full of stars that day too.
この日は2400mの峠を越えてテンバる予定でした。その長い長いまっすぐな登りの途中、向かってきたトラックが急停止して窓から差し出される赤いボトル・・・そう、コカ・コーラ。しかも冷たい!!炎天下お湯みたいな水しかもっていなかった我々は歓喜の声をあげながら、がぶがぶ飲みました。人生で一番うまいコーラだったしあれ以上のコーラは飲めないと思います。
予定していた100km地点あたりでテンバを探します。といっても水場なんてないので、平らである以外の条件はありません。枯れ川らしき溝を見つけたのでそこにテントを張ります。パンとチーズとプロテインとビタミン剤で夕食()をとったのち、星空観賞会。せっかく一眼レフがあったのに三脚も撮影技術もなかったのであんまりきれいにはとれませんでしたが、、
day3 somewhere in the desert to peine
We started 8am in the morning(at this season, the sun rises around 8!). We soon reached the high point, 2900m, and then down to Salar de atacama. So spectacular.
翌朝は8時出発(これでも薄暗いです)。次は2900mの峠を越えてアタカマ塩湖を目指します。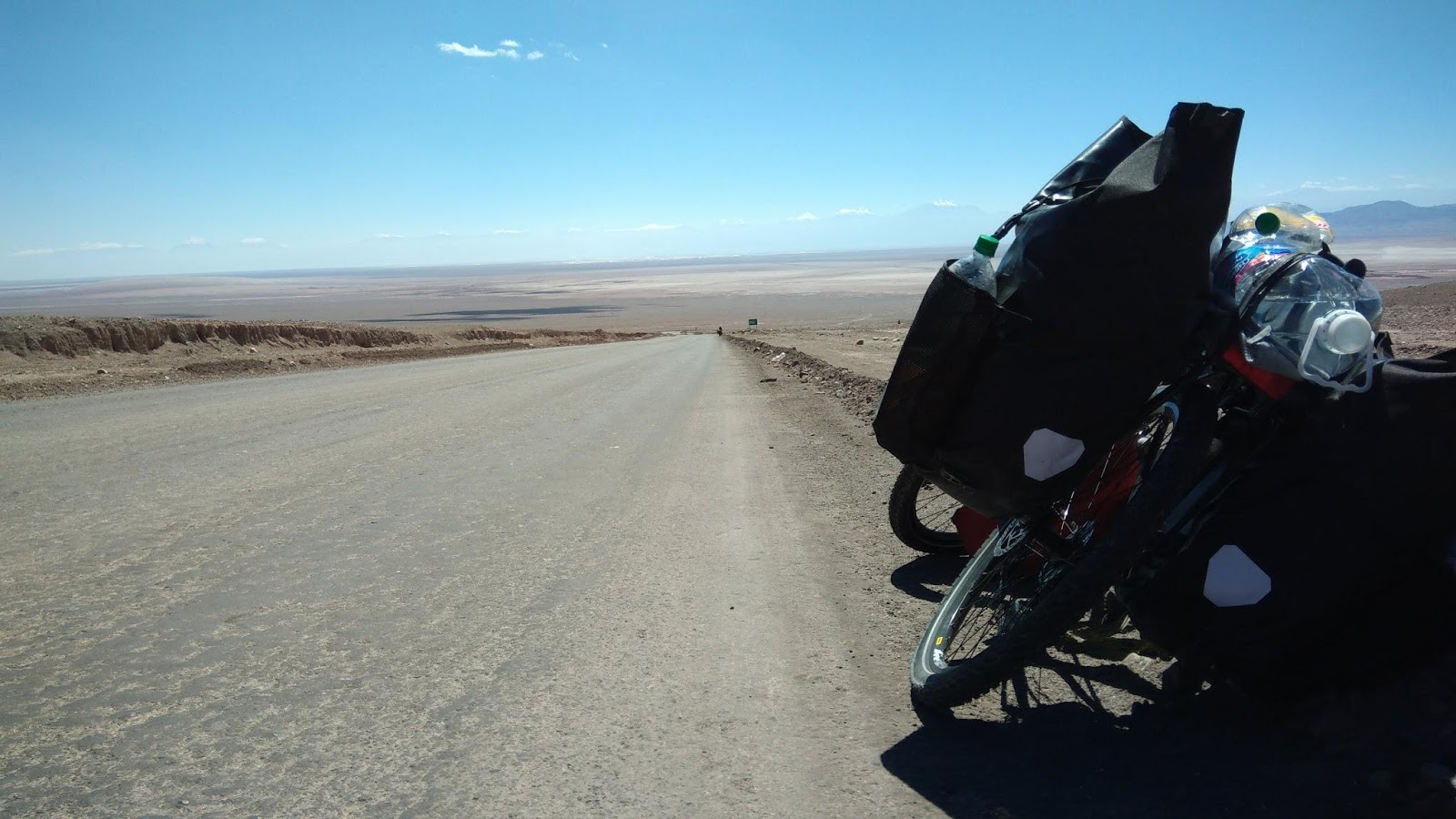 after that we enjoyed just a little salt dirt section, and then paved road to peine. We made 100k each day, so just 2 days cycling took us to peine;
このあたりは道の上に塩が散乱していて、塩ダートを走るというなかなかない経験ができました。とにかく絶景続き。ほぼ舗装だったのでなんだかんだ2日でペイネについてしまいました。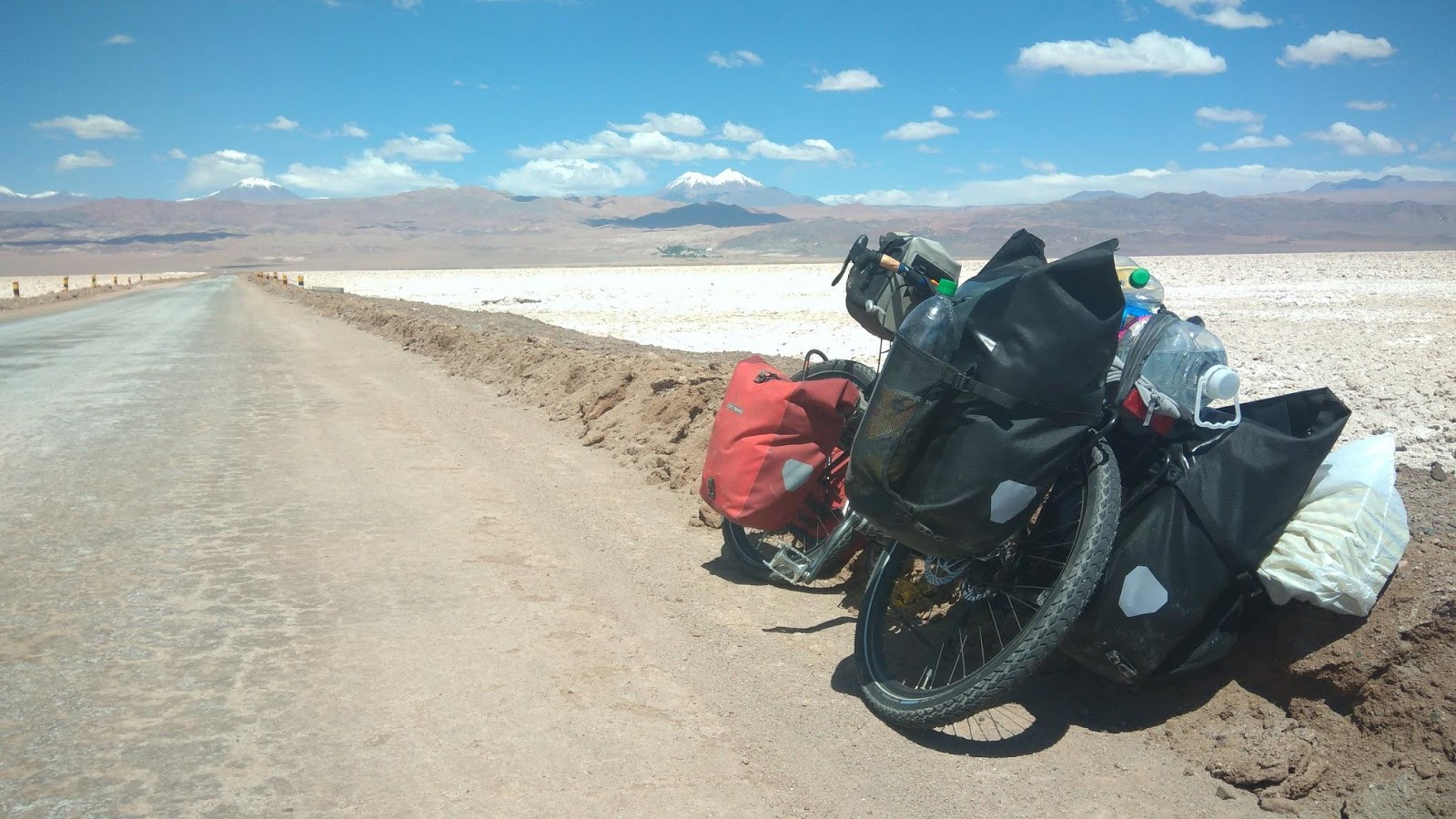 For those planning a crossing of the desert; no water available along the way, but sometimes trucks pass by so you might be able to get some, although not reliable. I would strongly recommend you to carry all from baquedano.
Peine was a small village with basic accommodations, shops and panaderia. We stayed in a pool, which they said was a campsite. It cost 3000CLP for each person, no Wifi. Cold shower was available and the hotel nearby offered a Wifi access. We took the cold shower and enjoyed the wifi, washed our clothes and filled our bottle there.Personal 4G was available in the village.
ペイネには宿がありました(が、高いしWIFIないのでスルー)。我々はキャンプ場(と主張されていたプール)で寝ました。近くでWifi拾えて冷水シャワーつきで一人3000ペソ(600円)、チリでは悪くないでしょう。あとペイネには小さい商店とパンやさんがあります。Personalの4Gもつながります。
day4 peine to socaire
Initially we planned to go to San pedro de atacama, but Peine wifi told us it was not necessary; the immigration is not there now. Chile and Argentina now have a complexed immigration, 11k after the pass, Argentina side. Therefore we skipped san pedro and went directly to socaire(all paved). Socaire was a small town too, with basic shops and restaurants, panaderia, but no free wifi. Entel 4G was around. We bought some bread and got some water from a roadside restaurant and had a dinner(only 3000CLP but very nice) there, bought some more bread at another restaurant and slept at the church. We experienced a storm at night, with strong wind and rain.
本当はチリの出国手続きのためにピストンしてサンペドロデアタカマという町に行くつもりでしたが、どうもイミグレが国境地点にずれたらしい情報をつかんだのでサンペドロはカットしてソカイレという村を目指します。途中で2800くらいしかないのに僕は高山病になりました。寝たら治った(???)ので、前の晩にマスクつけて寝てたせいだと思います。ソカイレにも小さい商店とおいしい食堂(めっちゃうまい)があります。パン屋はありませんがレストランで(主張すれば)売ってくれました。この晩は教会の裏にテント張りました。夜中は嵐でした。すぐ近くに雷が落ちてビビりました。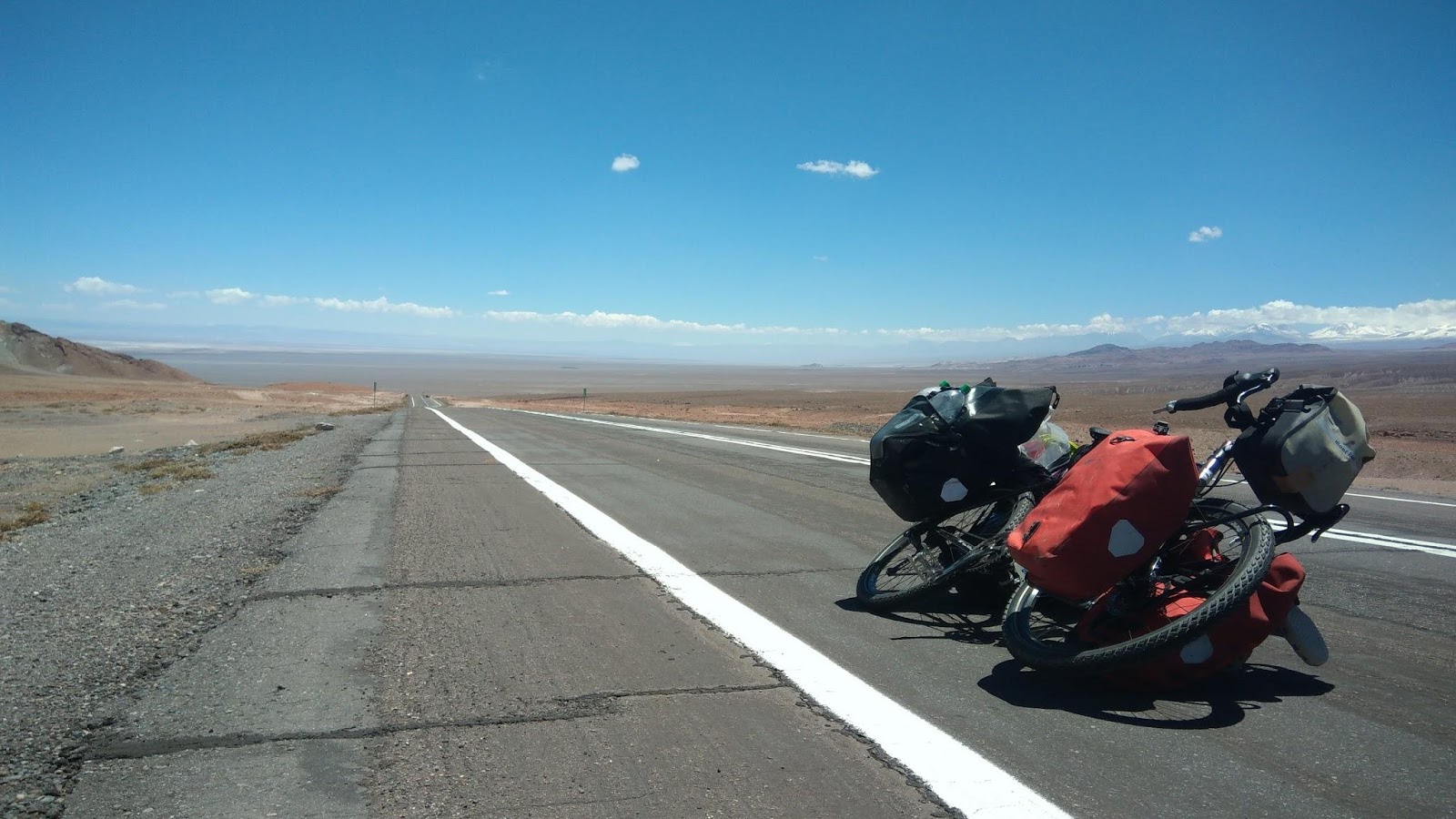 Part2. Paso Sico, from chile to argentina
day5 socaire to 70k point, all paved
The weather was fine in the morning. The climb starts with 7 days of food and 2 days of water. Soon we had some problem with breathing, since there was little oxygen. One of my friend said he got altitude sickness-the next morning he decided not to cycle anymore and hitchhiked. Anyway, the view was so spectacular. We pitched a tent in an empty plot at about 70k point from socaire(4100m), near agua caliente, but the next morning we found a building just a few kilos after that. You can ask them to stay there.
昨夜の嵐も朝には晴れていました。7日分の食料と2日分の水を積んで峠を登ります。空気がだんだん薄くなってきて呼吸がしんどくなってきました。一名が高山病でかなりしんどそうになってました(翌朝ヒッチハイクで離脱)。しかし絶景です。ソカイレから70kmくらい進んだところの空き地でテント泊(4100m、水なし)。数キロ先に建物があった上におそらく有人と思われたので、そこで泊めてもらったほうがいいと思います。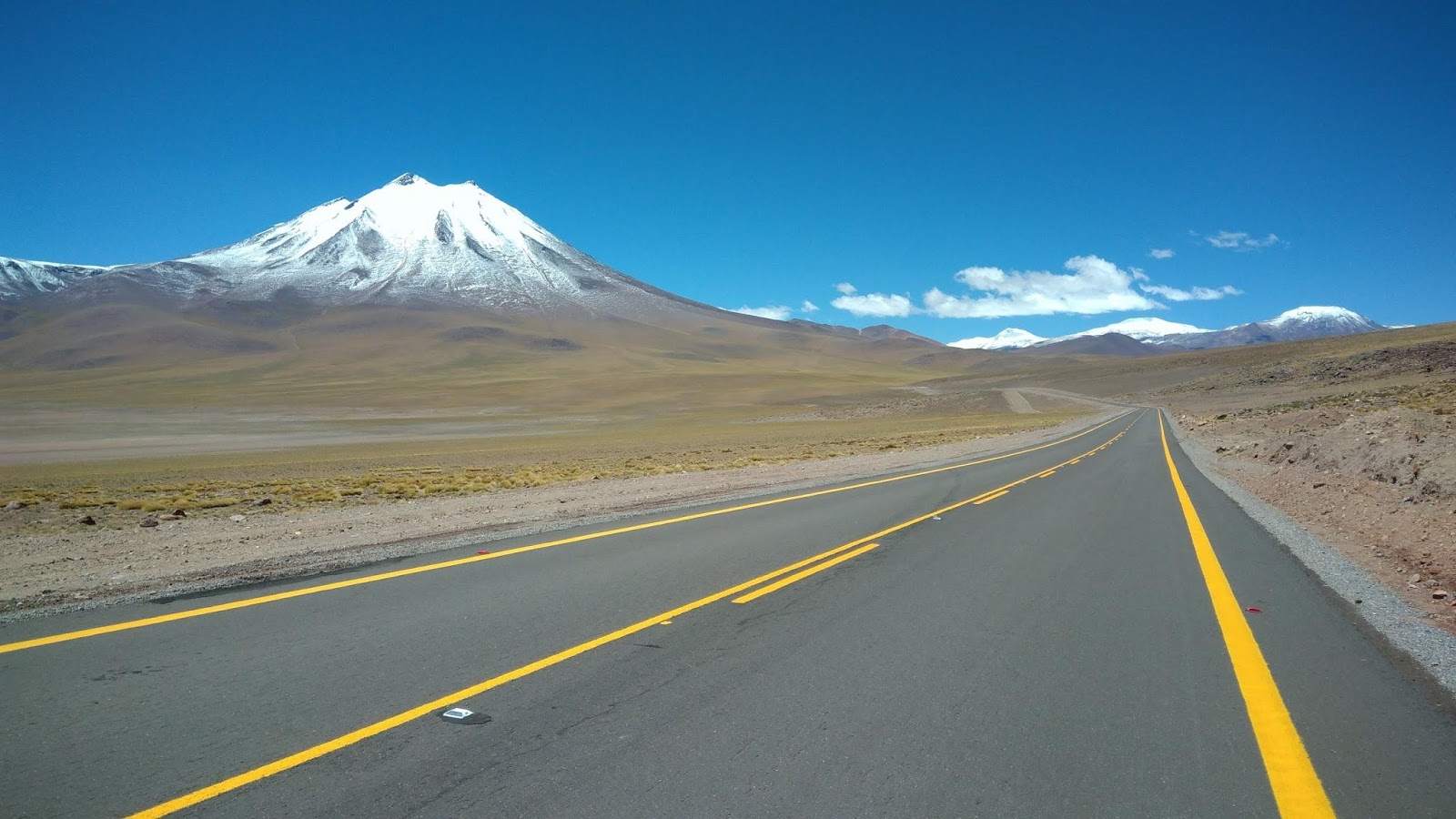 day6 to the immigration office
We woke up to find the tent was freezing. It was so cold but we had to start.
翌朝起きたらテントが凍っていました。寒すぎた。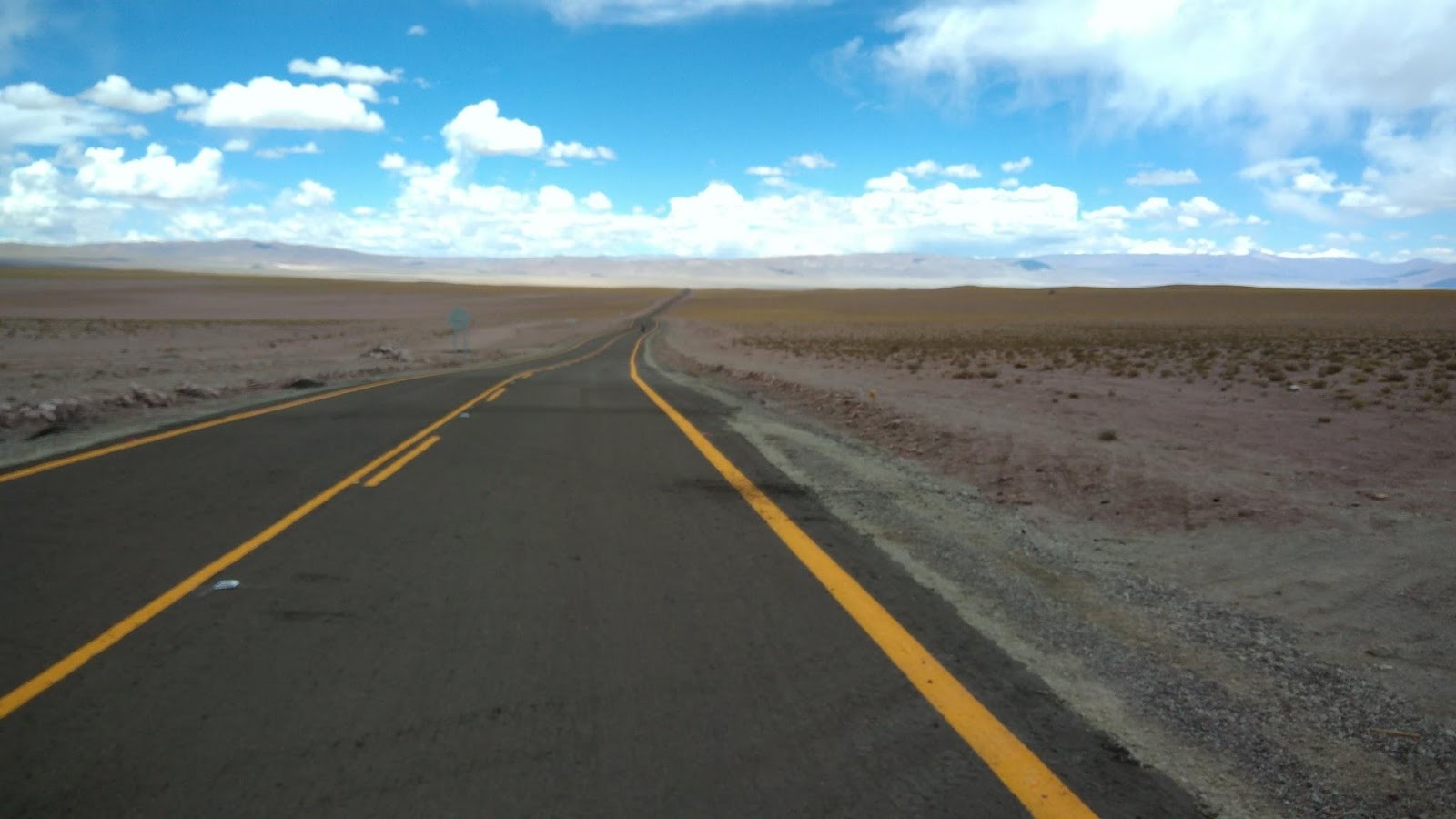 The hitchhike looked very easy; just ten minutes after we said good luck to each other, a red truck with bike passed by me… just ten minutes.
We two continued up and down and passed abra el laco, abra sico and then made it to paso sico!
高山病でヒッチハイクすることにした彼はわずか10分でヒッチハイクに成功していました。めったに車通らないのに運がよかったのでしょう。筆者含め残りの2人は予定通り、paso sicoに向かう2つの峠を越えて国境のpaso sicoにたどり着きました。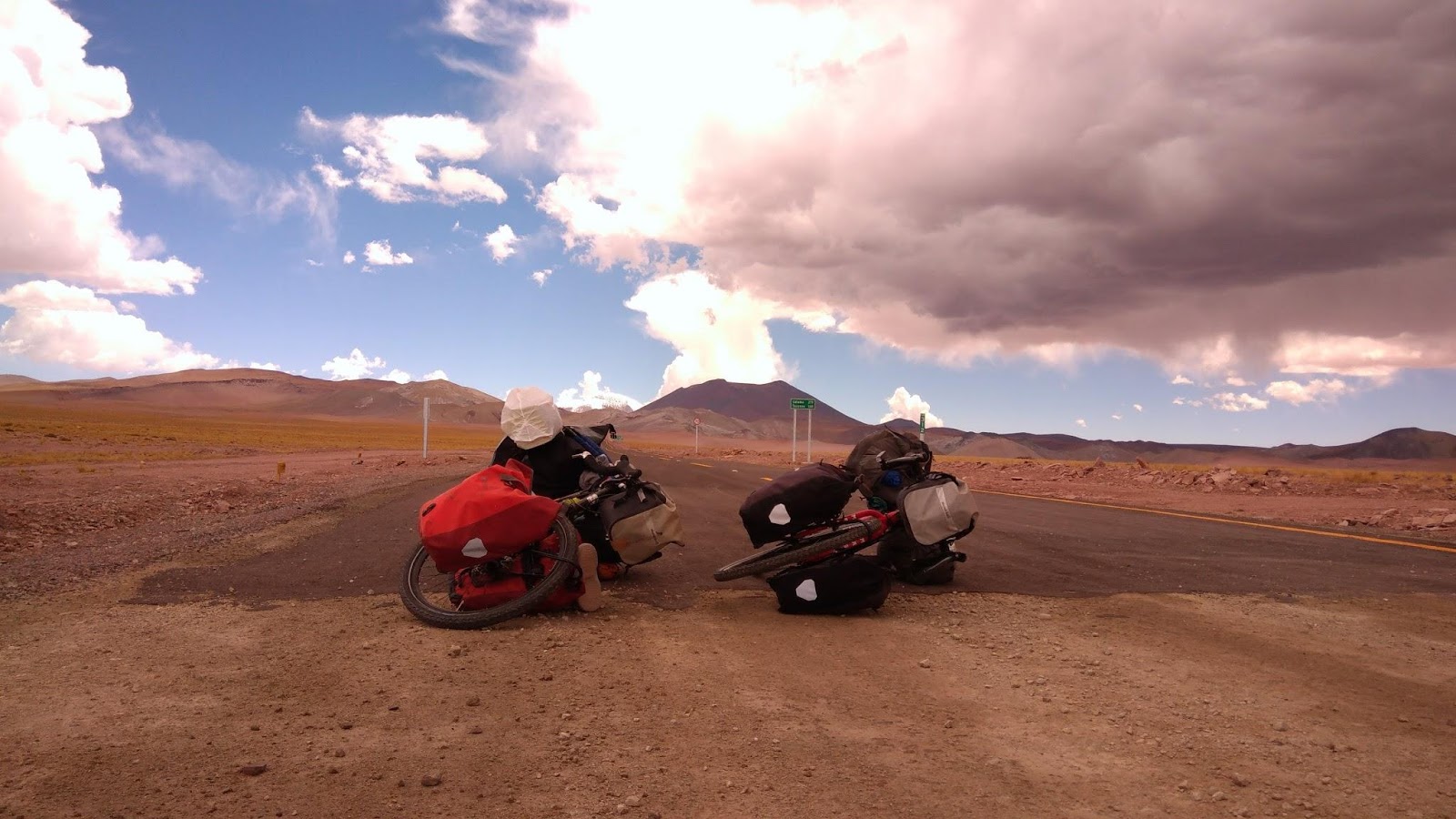 From the border the road is gravel. A bit sandy and some washboards.My friend had a flat tire there.
国境からアルゼンチン側は全ダートです。砂ダートかつ洗濯板です。相方はすぐパンクしました。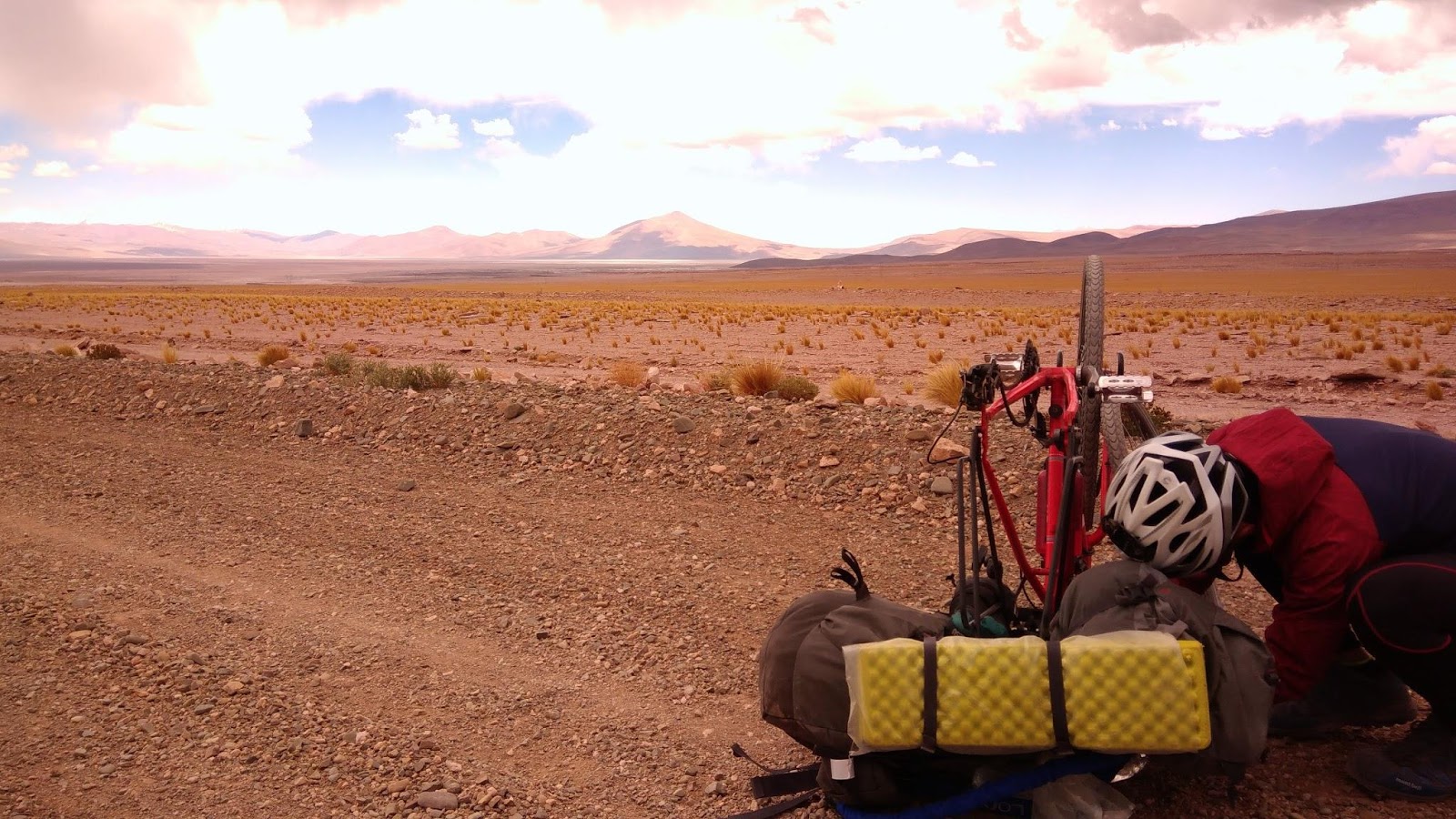 The immigration had super facilities for cyclists; hot shower, kitchen, dormitory, wifi - and they are all free! The water there was agua potable, water carried from the foot so tasted a bit salty. We drank it after boiling and had no problem(of course did not taste good, though) We two met the altitude sickness guy there. He said he would continue hitchhiking and go somewhere with low altitude.
国境から11km地点に、チリとアルゼンチンの合同イミグレがあります。ここはサイクリスト用にあるとしか思えないイミグレで、普通のドミトリーがついてます。温水シャワー、コンロありキッチン、Wifi、コンセント、水、しかも全部無料。少ししょっぱかったので水は処理してから飲んだほうがいいと思います。ヒッチハイクの彼とここで再会しました。彼はさらにヒッチハイクで標高を下げていくことにしました。
day7 immigration to olacapato- all gravel
We planned to follow the route which was described in andesbybike.com, but we failed. We were on another route, RN51, but I think this is an easier option to aviod 4300m high point. We had a high point of only 4000m. From just 10k before the village of olacapato, the surface got really sandy and the wind got so strong. It was so hard and it took 2 hours to do the 10k, but we made it to the village. Cyclists we talked at the pass told us that the police office in olacapato let cyclists stay inside, and it was true. The officer welcomed us and we stayed in a room with mattress. He also offered a kitchen, hot shower and wifi.
We got an extremely amount of UV but had no protection creme, so we got burned everyday. The problem is that our skin hurts! The lip was terribly swelled and hurt so much that I could not sleep well. You should bring some protection!!
オラカパトという村を目指します。すぐ着くだろうと思っていたら、村の手前10kmがかなりの深砂ダートに加えて砂嵐。口の中砂だらけでアベ5kmしか出ません。なとか村にたどりつき、(前情報で知ってはいましたが)交番に泊めてもらいました。マットとキッチン、Wifiとシャワーを使わせてくれました。小さい商店もありました。
このあたりから日焼けがひどすぎて僕は唇がはれ上がり激痛で眠れないレベルでした。メシ(パンとプロテインとビタミン剤)もろくに食えない状況・・・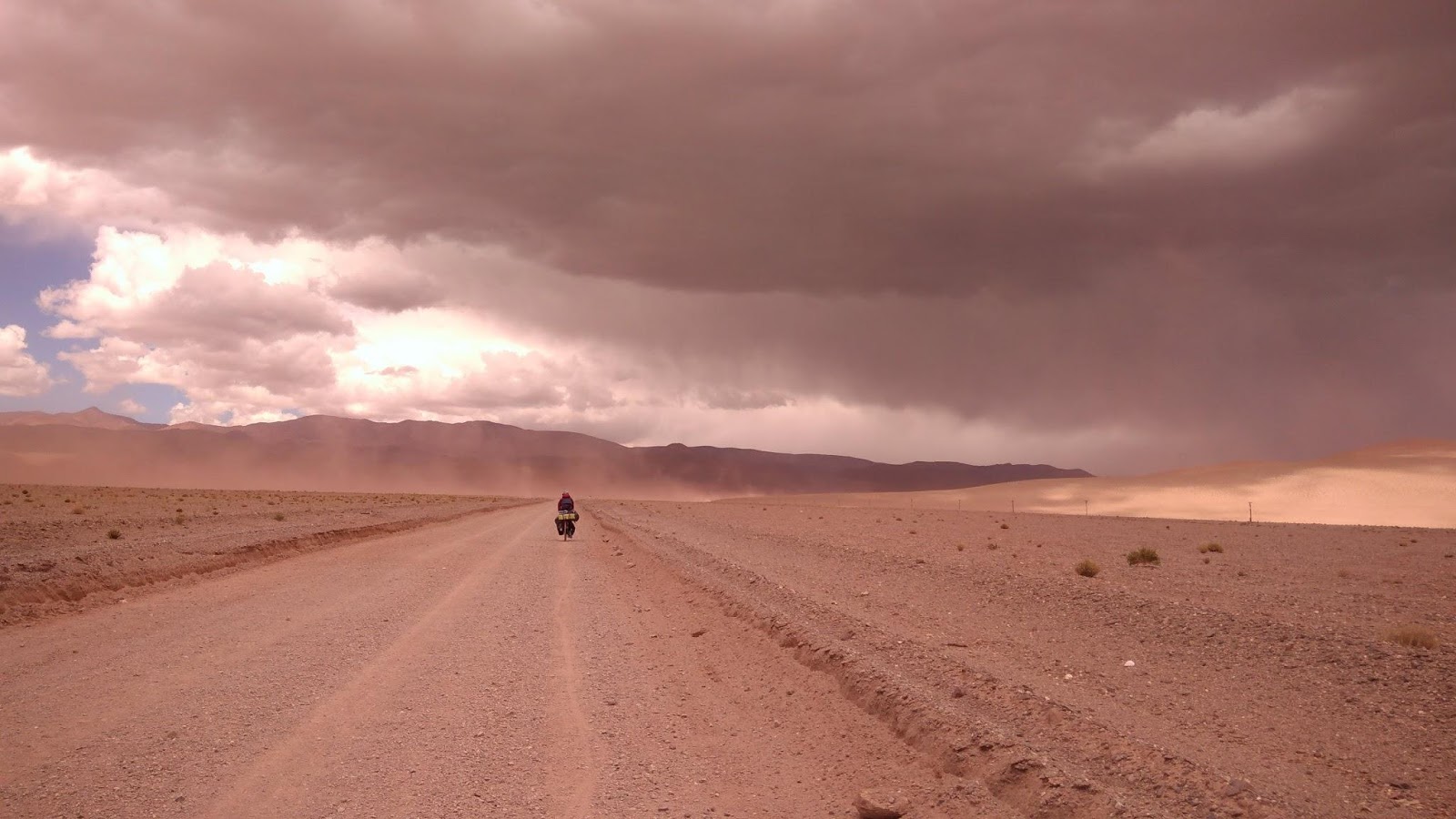 day8 olacapato to san antonio de los cobres - all gravel
Early in the morning we left the police office, with burned lip. We climbed up to Alto chorillos, 4555m. On the way down to San antonio, there was one river crossing.
San antonio was a big town with many hotels and restaurants, and a supermarket. Unfortunately when we stayed there the town had no water so we could not have a shower.
この日はアルトチョリージョスという4555mの峠を越えてサンアントニオに行きます。意外とちょろかったのは高度順応が進んでいたためでしょう。下りでは渡渉がありました。サンアントニオは大きな町で、ホテルやレストランもたくさんありました。しかし水に乏しい町のようでこの日は水道が止まっていました。1000円に値切ってホテル泊。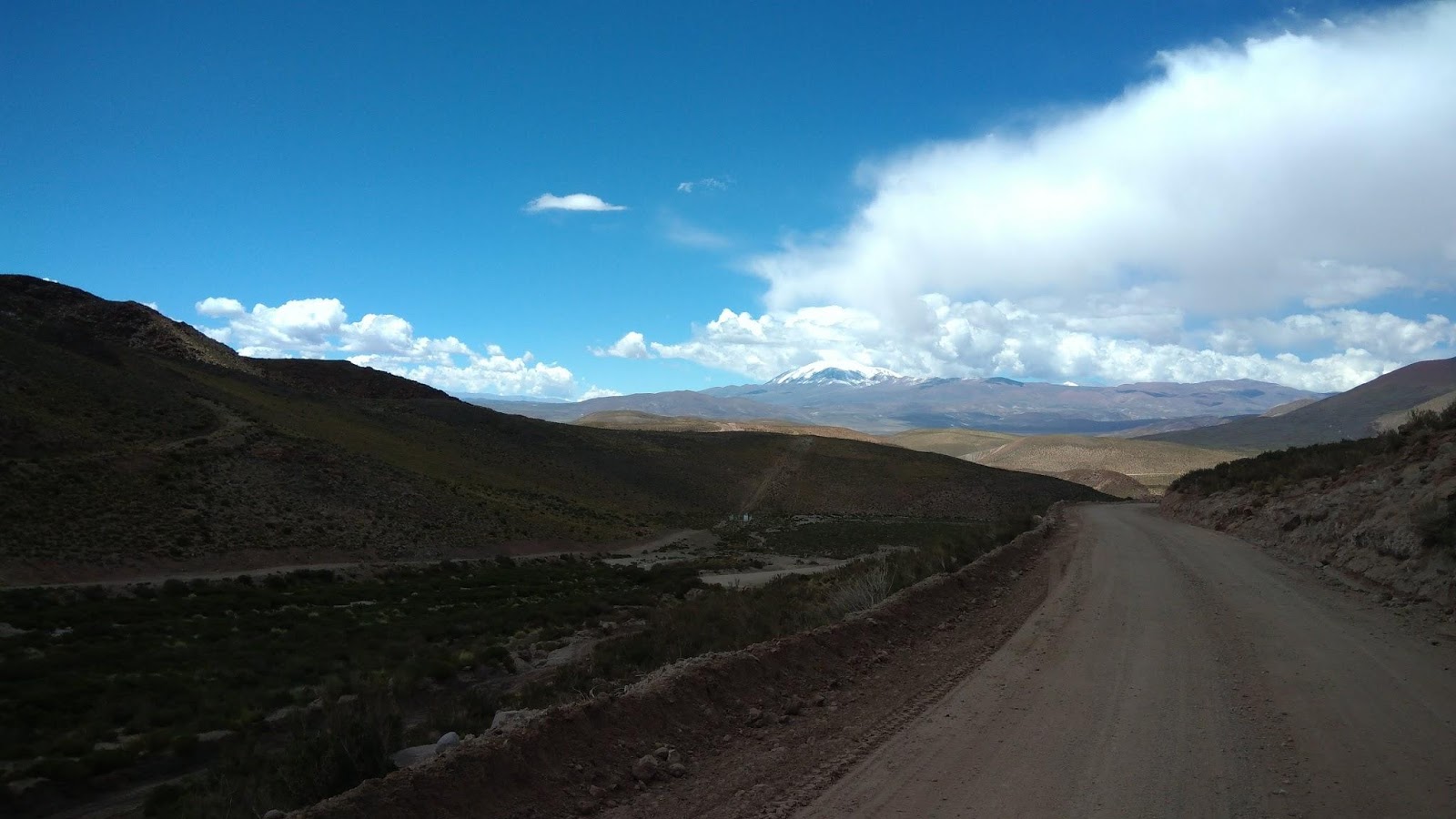 Part3. Abra del Acay and Ruta40
day9 san antonio to la poma
We got up early and left the town before 8am. The highest pass of the cycling was waiting for us -Abra del Acay, 4966m, perhaps the highest national road in the world except for the foreigner-restricted tibet.
We continued on the RN51, but it was a kind of tricky. RN51 separates into two. One is gravel, and the other is perhaps good paved road… we took the gravel option by mistake. It took us half an hour more than expected.
8時前に出発してこの日は一大イベント、4966mのAbra del acayへ。チベットの非解放区を除けば国道としては世界最高所と思われます。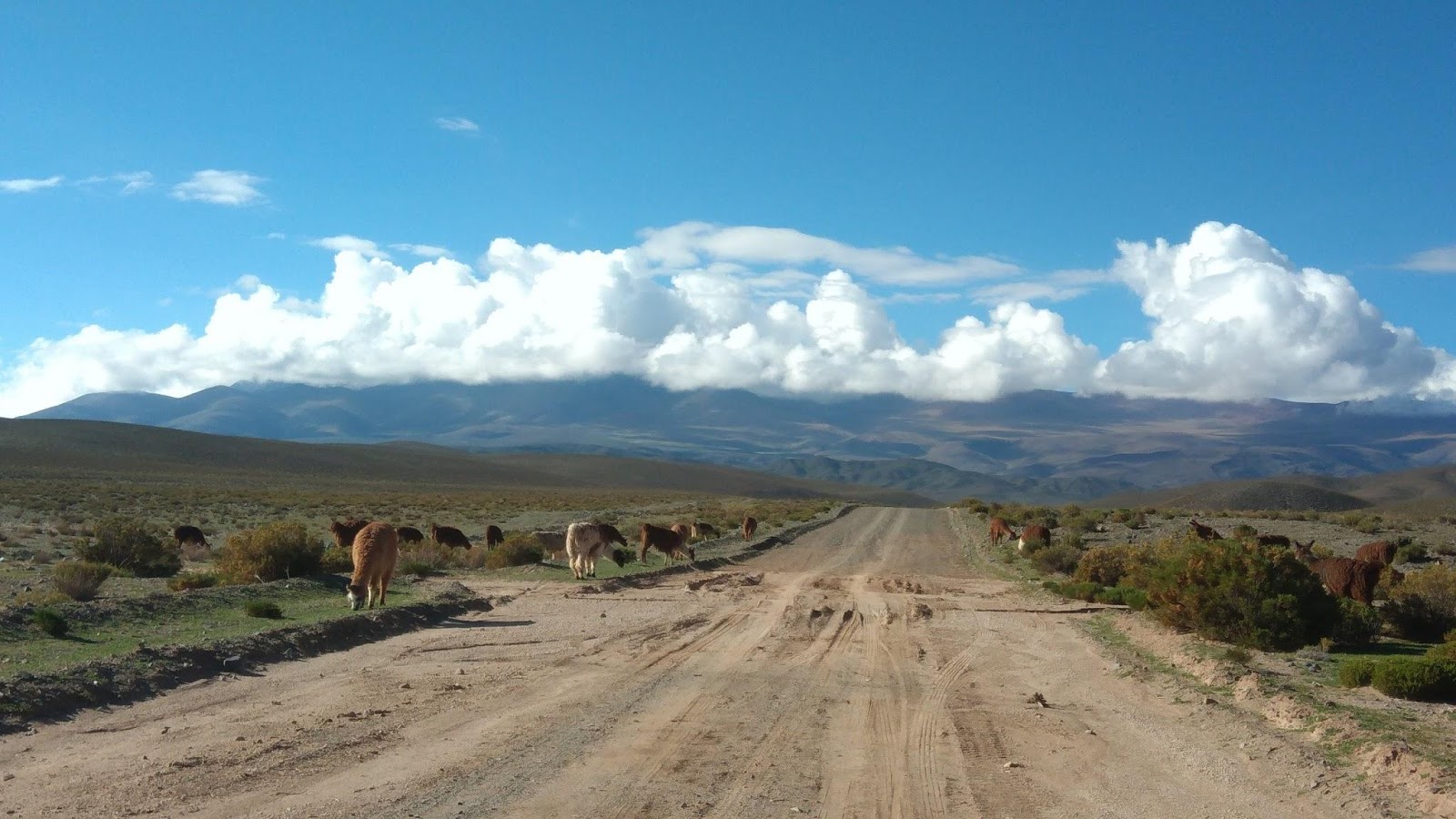 Anyway RN40 starts. All gravel from 3800m to 4966m. There were a lot of llamas and alpacas along the way. Initially we followed a clear stream and then hairpinned road starts. There were some steep and rocky sections which we had to push, but not very long. We met only one car in the pass, and he said we have TWO big river crossing on the way down.
The way to 4966m was so long. In the last 3km we stopped every 300m and breathed deeply, since we lacked oxygen. It was even snowing. Luckily the wind was not so strong, and we finally made it to the pass!
リャマやアルパカの群れとすれ違いながら、ダートを登ります。途中ガレガレでプッシングするところもありましたが、だいたい乗車可能です。酸素が薄くなってくると数百mに一回は止まって深呼吸しないと進めませんでした。なんとか峠へ。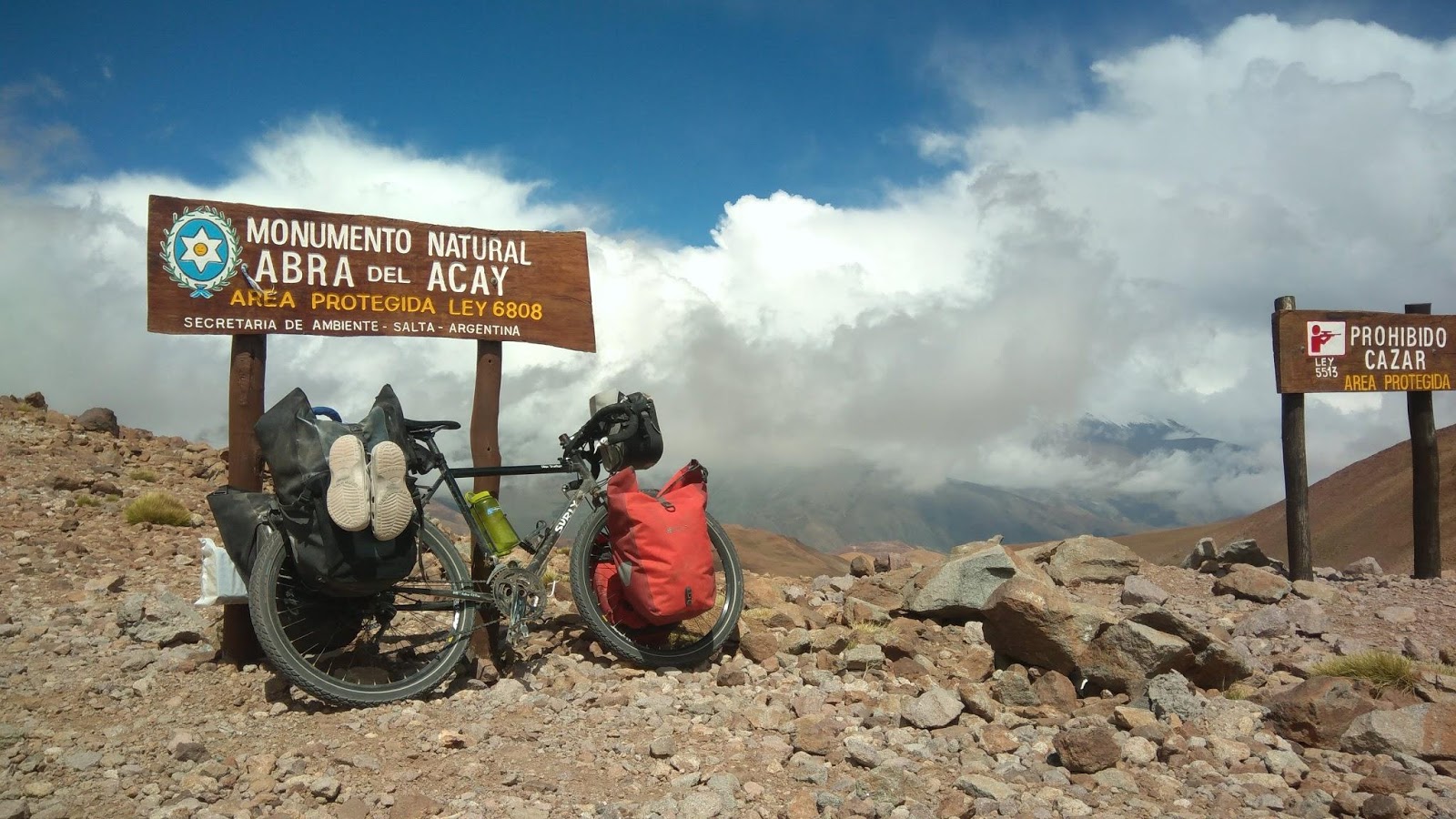 It was beginning to get cold and cloudy, we hurried down.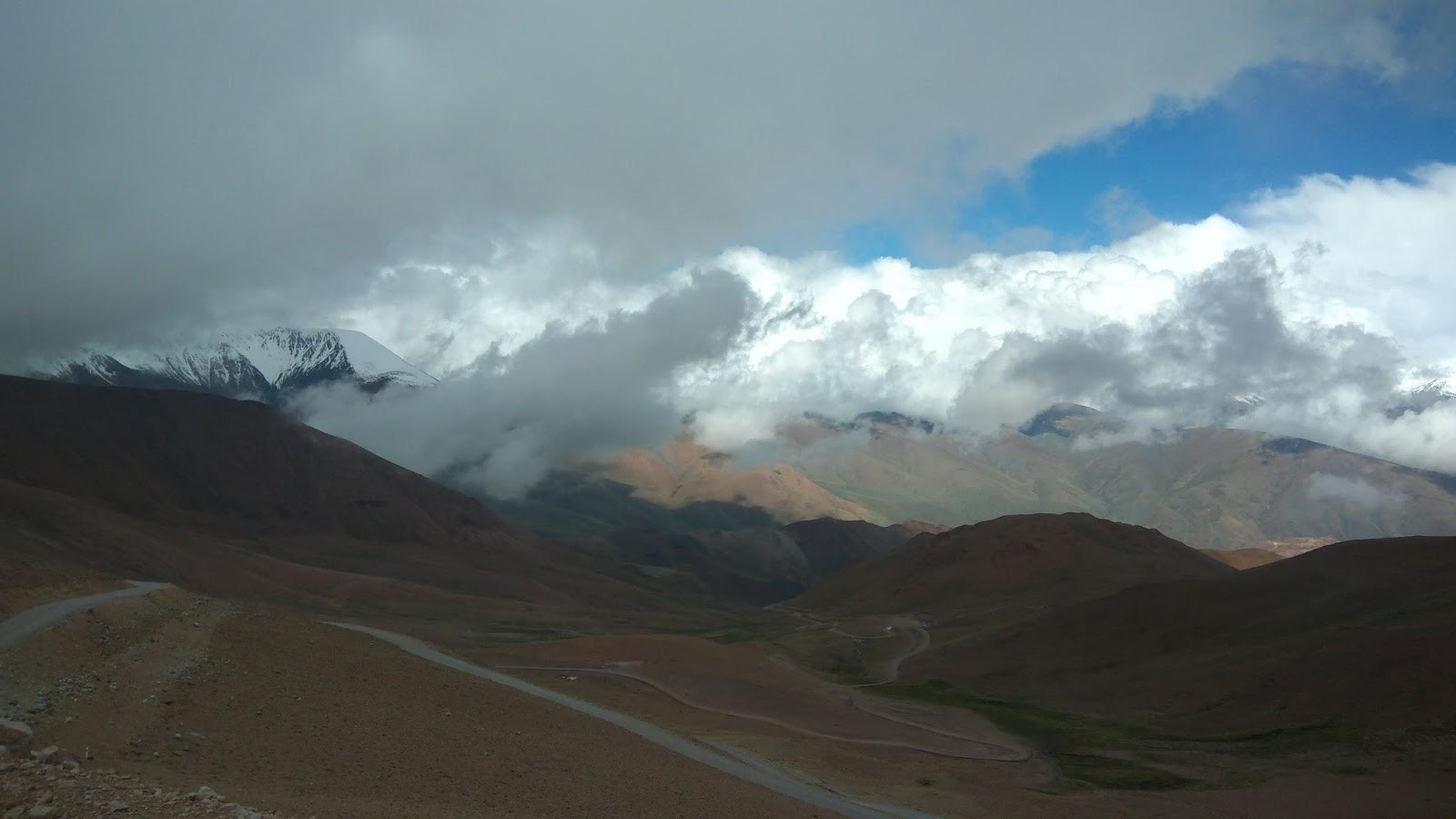 The road to the down was in terrible condition. The road was ridable, but there were so many rivers ON THE ROAD. We had 7 river crossings.
On the way to La poma, there were several houses so you might be able to get some water and the river can also be a water resource
La poma had some restaurants(we had nice empanadas) and free municipal camping site. It has a clean shower room and toilet, and water tap.
下りの道(南側)はかなりの酷道でした。乗車不能セクションはありませんが、無数の洗い越しと7回の渡渉があります。道幅も狭いうえに片側は崖です。
なんとか下界にたどり着きます。木が生えているのを見たのは何日ぶりでしょうか。ラポーマという町ですが、無料のキャンプ場があります。きれいなシャワールームとトイレと水道があります。
day10 La poma to Cachi
Easy day. Only 60k cycling, and the last 10k was paved. We arrived at cachi at noon and had a big sandwich with meat!! In the mountains we always had canned pate, tuna and protein powder. The first meat of the week!!
もう下界なので楽ちんです。カチという町を目指します。昼にはついてしまいました。そして肉!!ワイン!!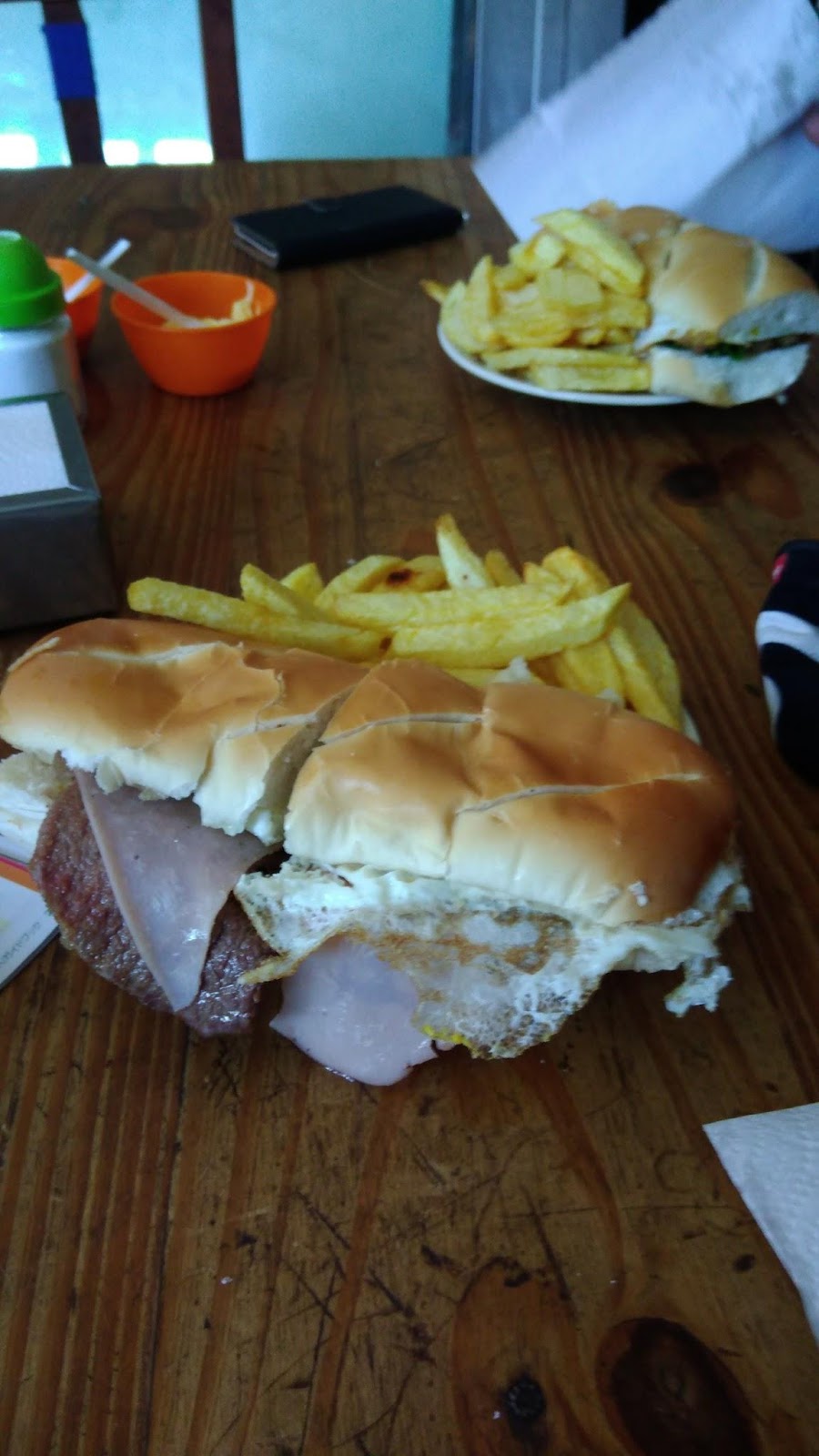 After that the altitude sickness guy arrived at cachi by bus. We stayed in a municipal hostel that night. 65 ARS for camping and 80 ARS for hostel, no wifi, hot shower but no kitchen for guests. The price may be different in the future because of the inflation.
唇がいっこうに治らないので病院に行ってみました。医者含めて英語は全く通じませんでしたがgoogle翻訳で何とかしました。薬も出ました。アルゼンチンでは医療費は無料なのか、全部タダでした。出発は昼近くなりましたがアンガスタコへ。標高も2000m前後になってきました。下界は暑いですね。
この日は公営ホステルに泊まりました。Wifiなし、シャワーあり、ベッドありで80ペソ(400円)、なかなか安い。
day11 cachi to angastaco
My lip hurt so much that I could not sleep so I decided to go to a hospital that morning. The doctor(no english of course) gave me some medicine. It was already 11am when we left cachi.
Soon the road got gravel. We continued on that road to the south. Some sections were too sandy to ride.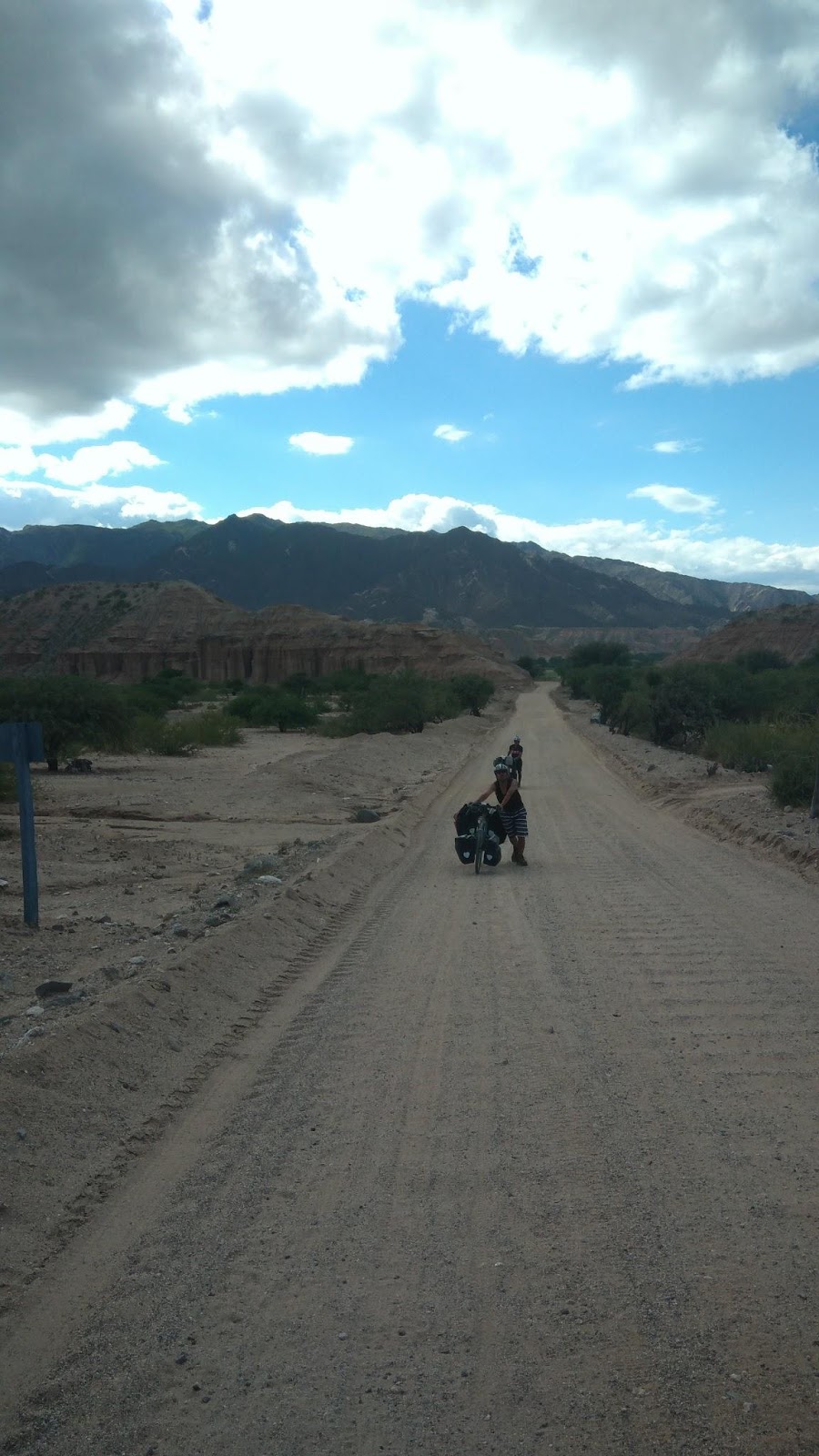 Angastaco also had a supermarket, municipal camping area(50ARS/tent) and only one restaurant. We enjoyed some meat there.
アンガスタコにはスーパーと公営キャンプ場(テント1つ50ペソ)がありました。レストランもありました。
day12 angastaco to cafayate
From Angastaco to san carlos the road was gravel but after that the road is paved.
In cafayate we stayed in a campsite "RAJA" with kitchen and good wifi, hot shower. The owner was very nice. We took a few days rest there.
下界の町カファヤテで二日間休養です。RAJAというキャンプ場で滞在しました。一泊80ペソ/人らしいですが値切って60にしました。オーナーは気のいい奴で、クラブ行こうぜ!とか誘ってくれます(寝ブッチしましたが)。カファヤテではひたすら肉を食いました。薬を飲んでいたのでワインは飲めませんでした。紫外線は粛清。
day15 cafayate to belen by bus, cycle to londres
We were attacking Paso san francisco, 4726m, so said goodbye to the altitude sickness guy again and took buses to belen. RN40 was too hot but did not look interesting for us. As for the buses we took, they did not charge for bikes and we did not have to remove the wheels. From belen, we cycled to the next town, Londres. There was also a free municipal camping area, but was noisy; Argentina people love all-night BBQ party.
下界は暑すぎる割に単調で、走る気になれなかったので少し輪行します。アルゼンチン北部のバスは輪行袋なしで突っ込んでも何も言われず、我々の場合は特にお金を要求されることもありませんでした。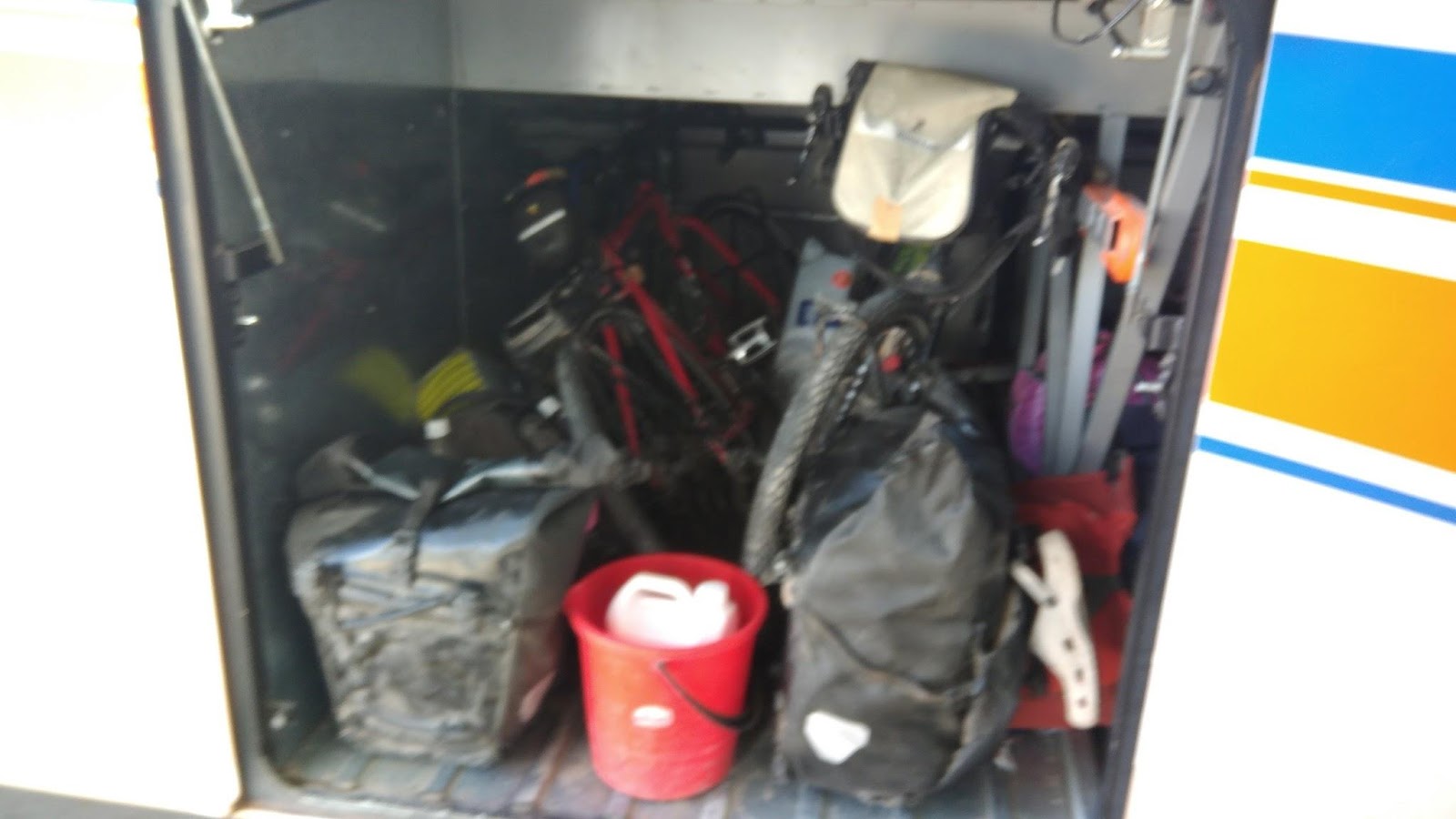 day16 Londres to Tinogasta
We were to take RP3, described in andesbybike.com, but soon after we entered the route my friend crashed and said he did not want to go gravel that day. So we took the paved RN40 and RN60 140km to Tinogasta. Luckily we had tailwind so it was an easy day. At tinogasta we pitched a tent in a park beside the bus terminal. There was an old couple traveling by motorbike too. It was saturday, and we expected no shops open the next day so we had to buy everything for Paso san francisco that night. We bought 15 baguettes for each , which surprised the panaderia. As is the case, the baguette was too much again. Note; tinogasta has several big supermarkets which sells canned foods, cheese, everything.
最短経路のダート70kmでティノガスタを目指す予定でしたが、後輩が落車して萎えていたので140kmの舗装路で迂回することにしました。ティノガスタの町には大きなスーパーがありました。テンバを探し回った挙句公園でテントを張ることになりました。隣にはバイクの老夫婦もテントを張っていて、ポップコーンをいただきました。次の日が日曜日=パン屋が閉まる と思われたため、サンフランシスコ峠に備えてパンを買い込みました。僕がバゲット15本(一人分)注文するとお前らマジかよって顔をされ、後輩がさらに15本注文すると呆れられました。正直重すぎたし大量に余りました。以下買ったパンをパッキングしたの図です。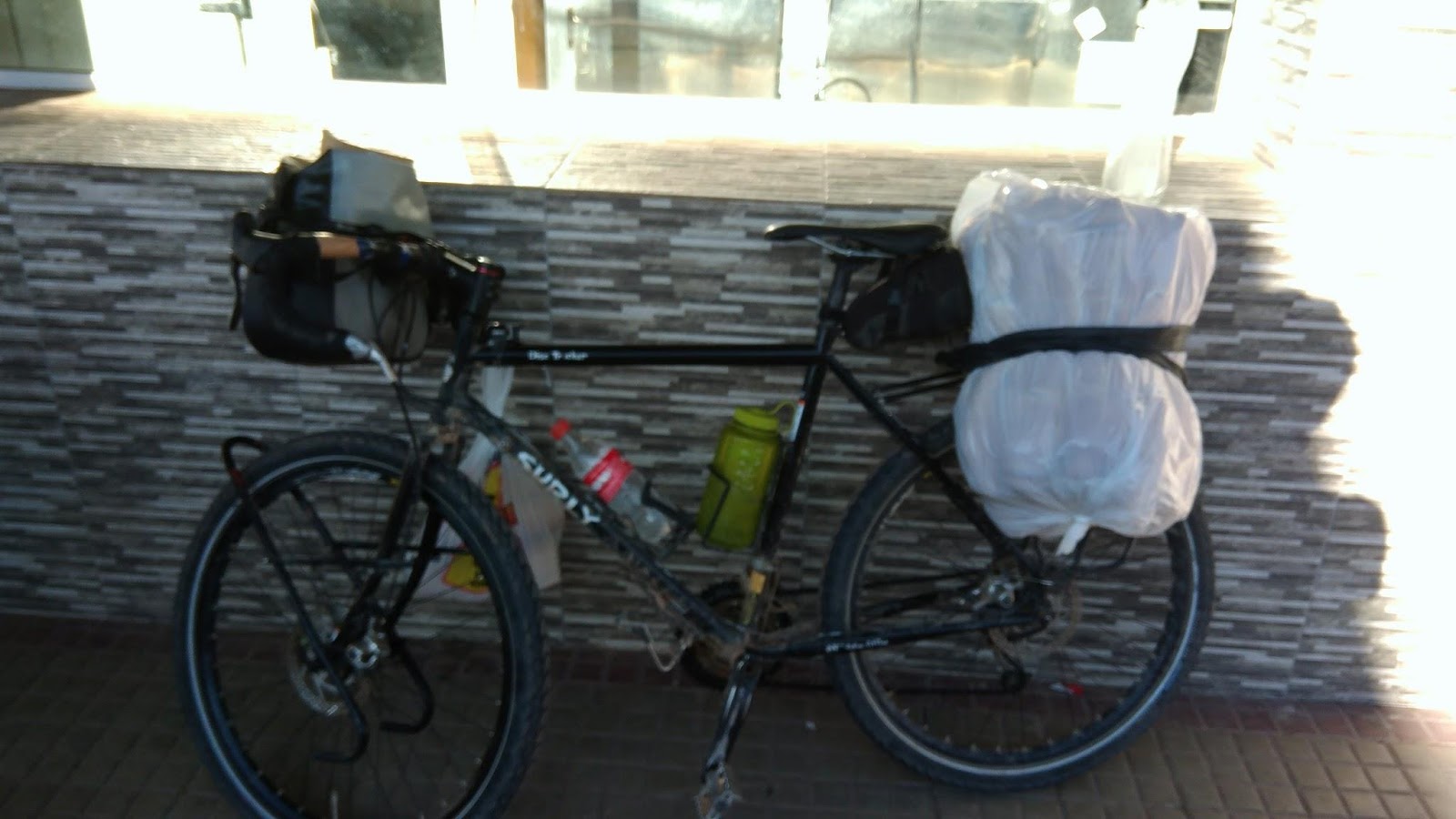 day17 tinogasta to fiambala
An easy day. We wanted to leave with dry tent so we decided to stay in a hospedaje. They had no wifi but the owner said wifi was only available in the municipal hostel which is a bit expensive. The plaza wifi was working so wifi was not a problem for us, though.
ふもとのフィアンバラまで数十キロ自走かつ休養日です。一人200ペソに値切って宿に泊まり、テントを干しました。
Part4. Paso San Francisco, argentina to chile
Note; In the argentina side of paso san francisco, there are 6 refugios(shelters) along the way. Refugio1 to 4 have a stream nearby so you can even get water.
day18 fiambala(1510m) to refugio1(2960m) all paved
We started relatively late in the morning with 8L of water, 12 days of food(too much!). As for water, andesbybike said the stream beside R1 was too salty to drink, so we carried for two days.
水8Lと12日分の食料を積んでいざ出発です。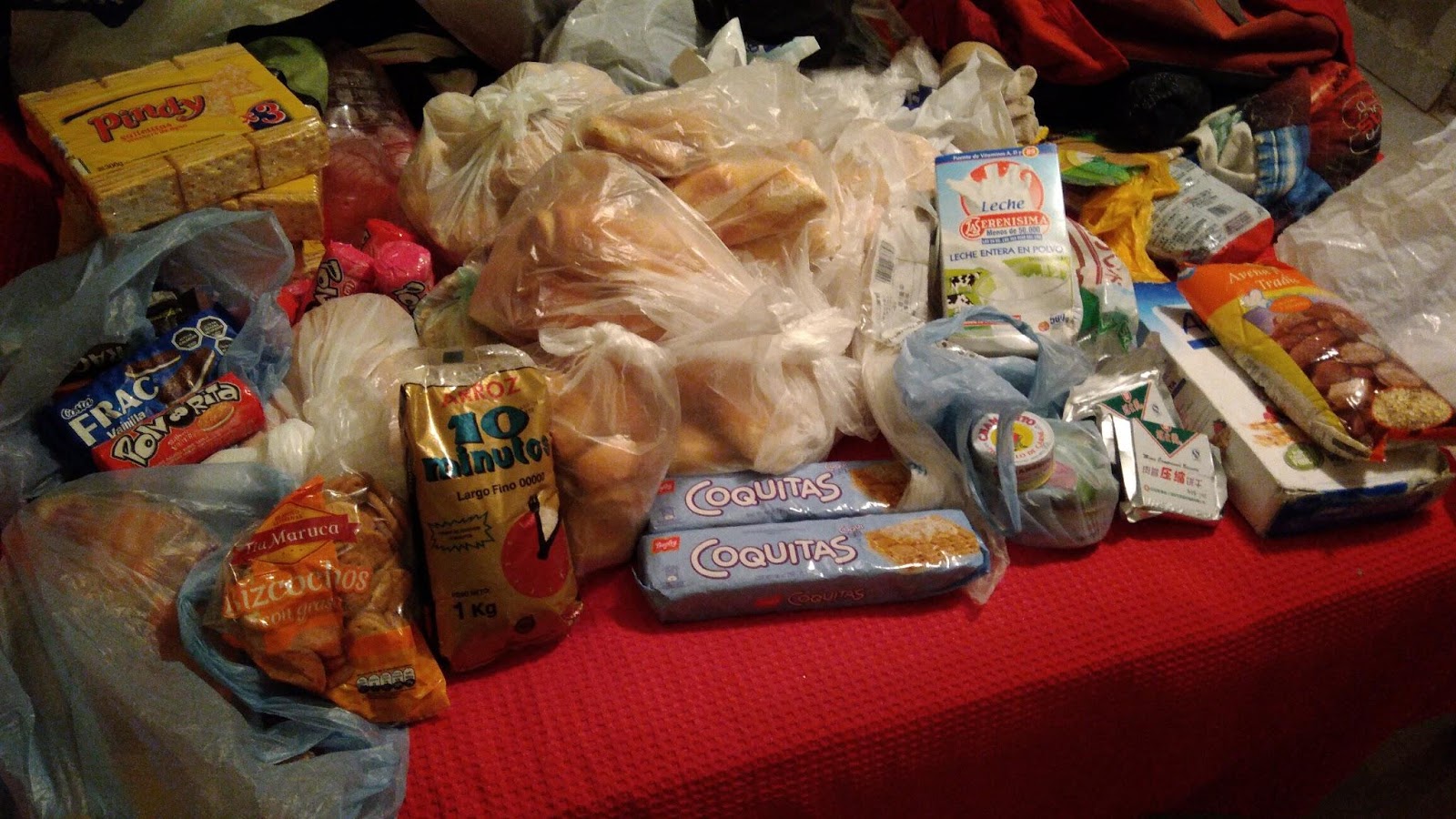 In the morning we had tailwind but it soon changed into headwind. This is why paso san francisco is said to be extremely difficult. We arrived at R1 around 3pm but called it a day. Going up rapidly increases the risk of altitude sickness. After dinner of pate and bread, we decided to sleep although it was still 6pm.
サンフランシスコ峠は暴風で有名なのですが、走り出しはゆるやかな追い風。ちょろいじゃんとか言ってたらすぐ向かい風になりました。この日はまだましなほう。この峠には道沿いに無人シェルターがあって、夜はそこで眠れます。というわけでこの日は一昨日かったパンをかじり、シェルターで寝ました。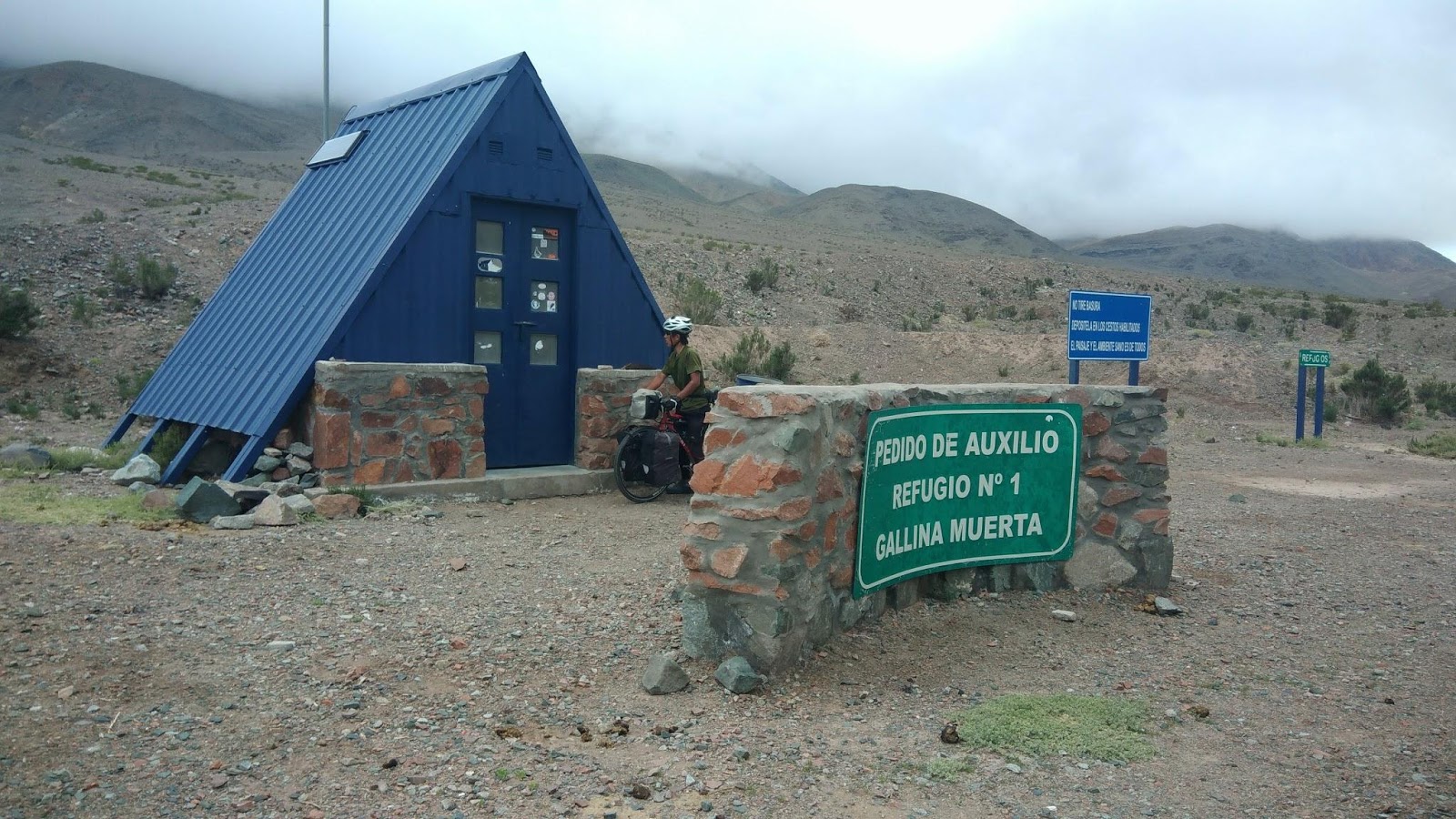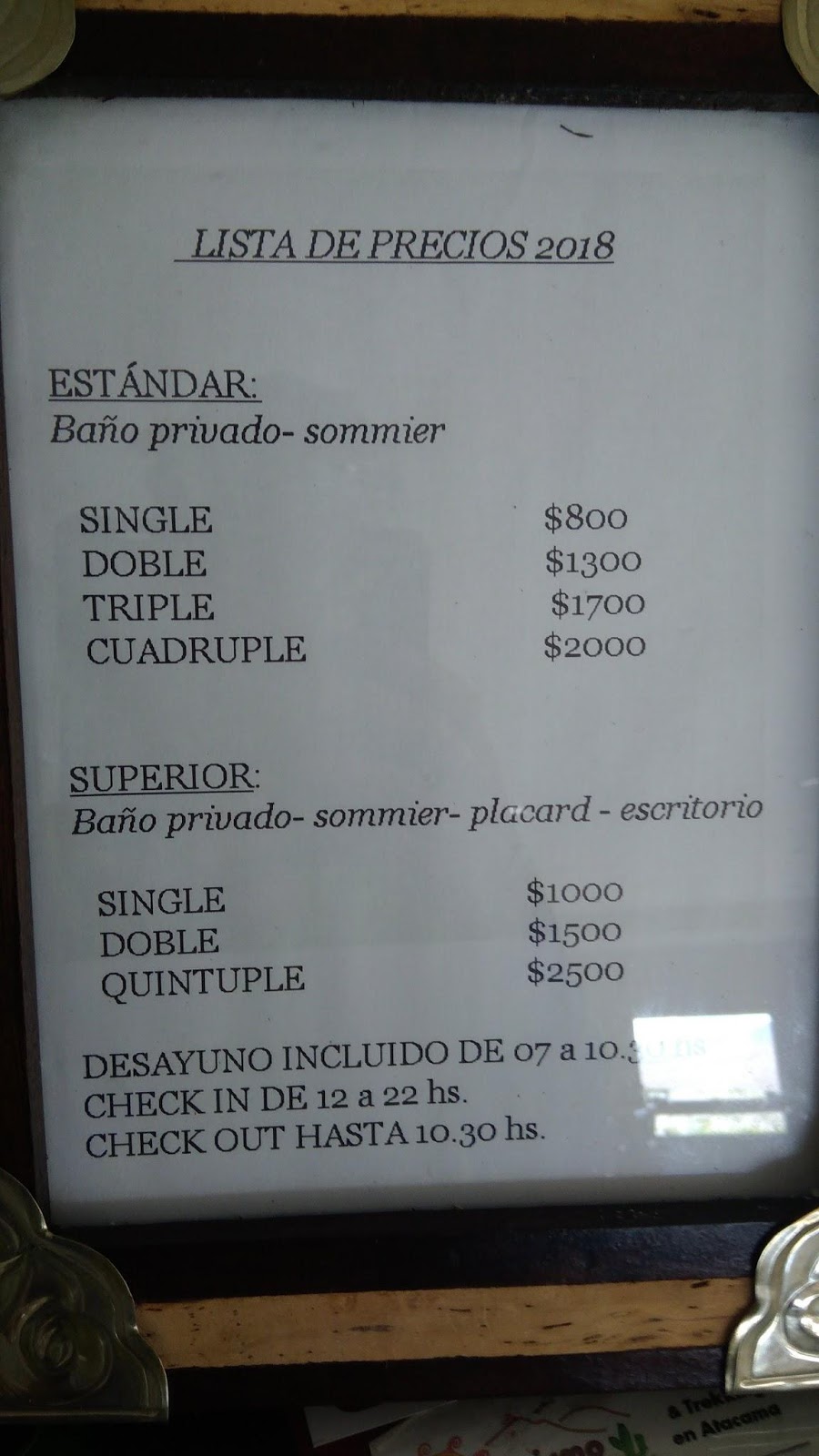 day19 refugio1 to refugio3
In the first plan we were to stay at the hotel cortidera, at 3300m point, but we arrived there around noon so we decided to go on to R3 within that day. Instead, we had lunch and dinner there-they had some delicious meat! Not cheap(150ARS/plate), but we enjoyed them much. They even had wifi and drinkable tap water, so it was 4pm when we left there. Slept at R3.
ホテルがあるので泊まってみようかという計画でしたが、昼にホテルについてしまったので当然泊まりません。次のシェルターに行きます。アルゼンチンペソが余っていたので課金して飯を食いました。肉。肉。プロテインとビタミン剤の生活の後に食うと沁みます。Wifiも飛んでました。水も汲めました。そのあとシェルターで寝ました。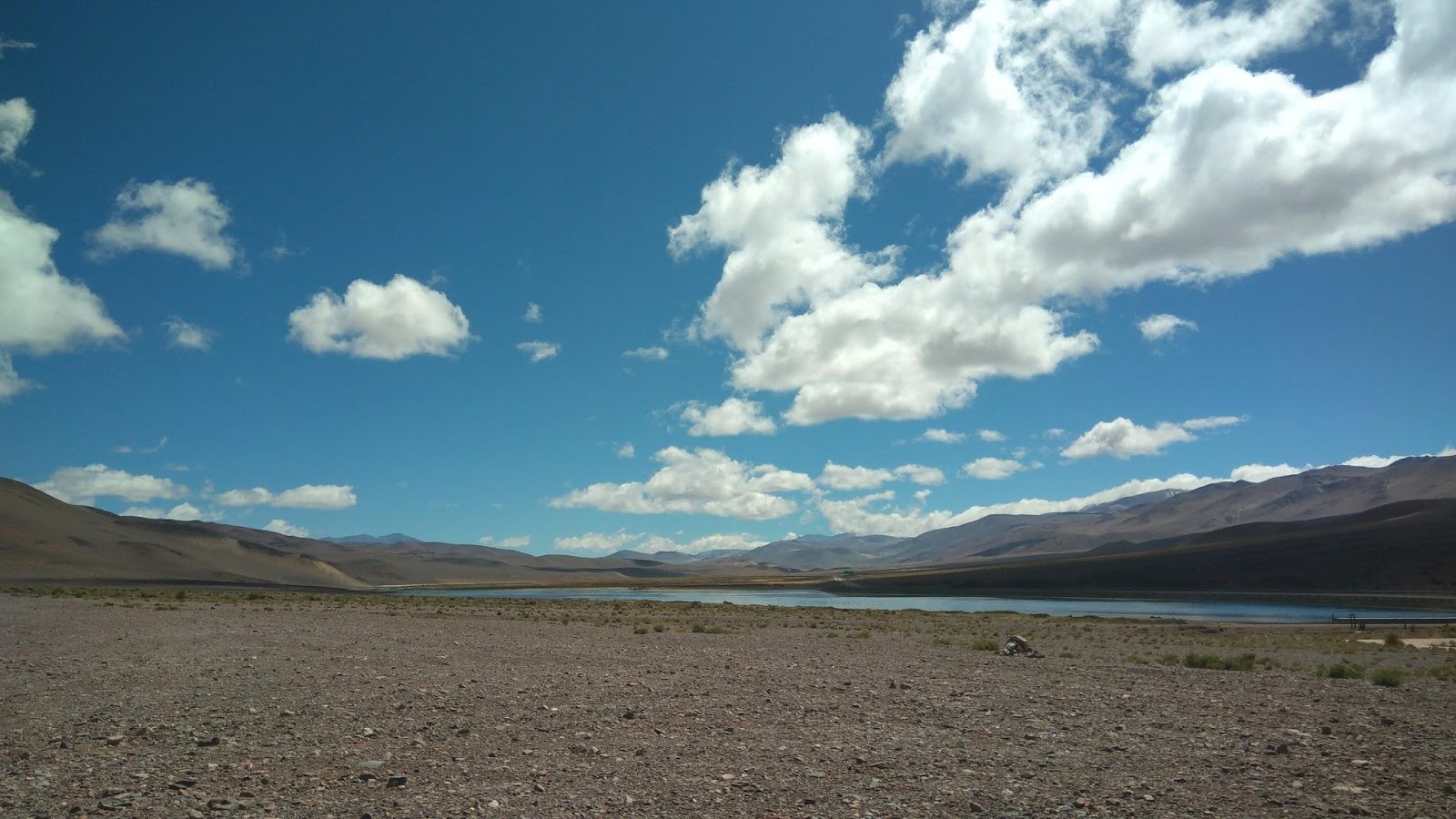 day20 R3 to Las grutas
We woke up at 6;45, and had bread and cheese for breakfast. Headwind. At around 11am it was so strong that we used the inner chainring even when cycling down.
暴風が本気を出してきました。朝はまだましなほうで、昼前にはダウンでインナーに入れるくらいには向かい風でした。しんどくなってきて内心ニヤニヤしていました。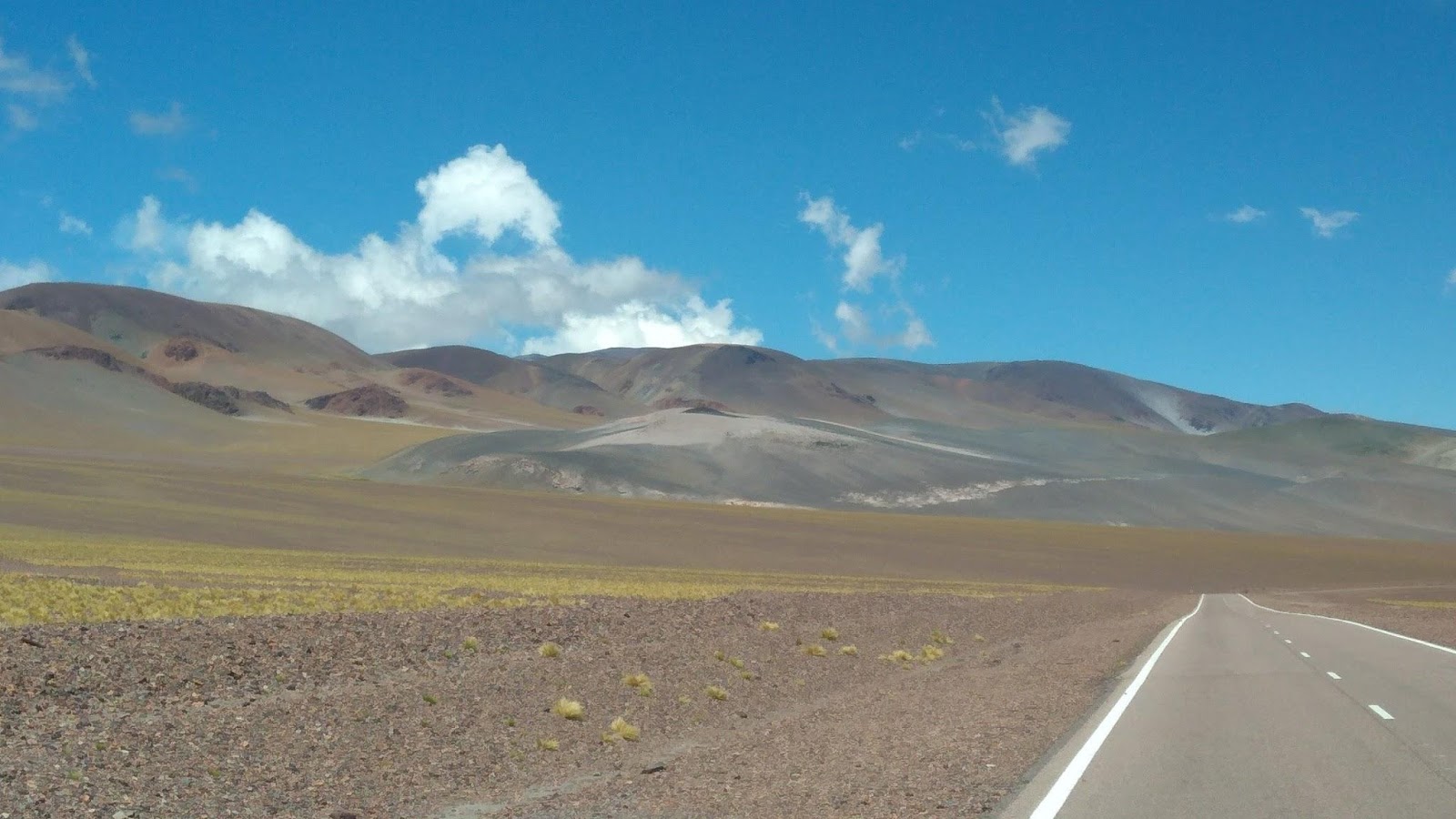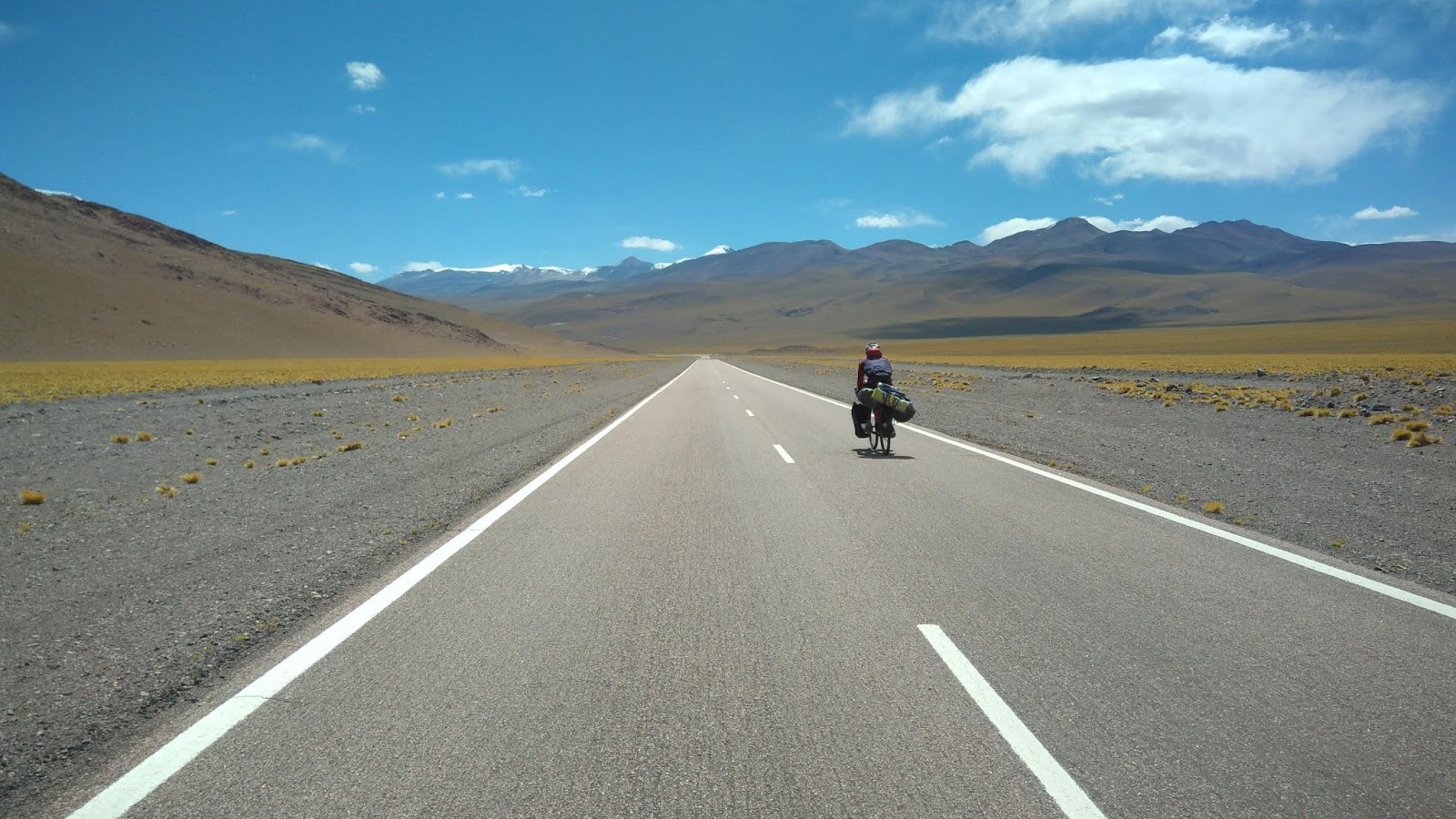 After the high point of 4200m, we arrived at the argentina immigration, Las grutas. They also had a dormitory, but was not free. Andesbybike said 80 ARS but they said 400 for each person!! Inflation? Anyway we did not have such amount of ARS but we wanted to stay inside that day so paid in USD. 200 ARS and 20 dollars. They did not have wifi but seemed to have personal 4G. Hot shower, drinking water, kitchen, bed. The man there said there is a waterspot just 2k before Laguna verde.
アルゼンチン側の4000m地点にあるイミグレには宿がついています。前情報では80ペソでしたがなんと400とか・・・そんなに持ってないし。値切ってちょっとドルたしてなんとかピットイン。たとえタダとはいえあの暴風の中テントは張りたくないです。シャワーとキッチンはありました。Wifiはないです。
day21 Las grutas to the pass, laguna verde
We woke up at 5;30 and started at 6;40, before sunrise, to avoid the wind, but already headwind then. The dog at las grutas followed us. It was very cold and our water was frozen.
風は朝には弱いだろうと思って日の出前に出発しましたが、残念ながら暴風でした。しかも寒すぎて飲み水が凍ってました。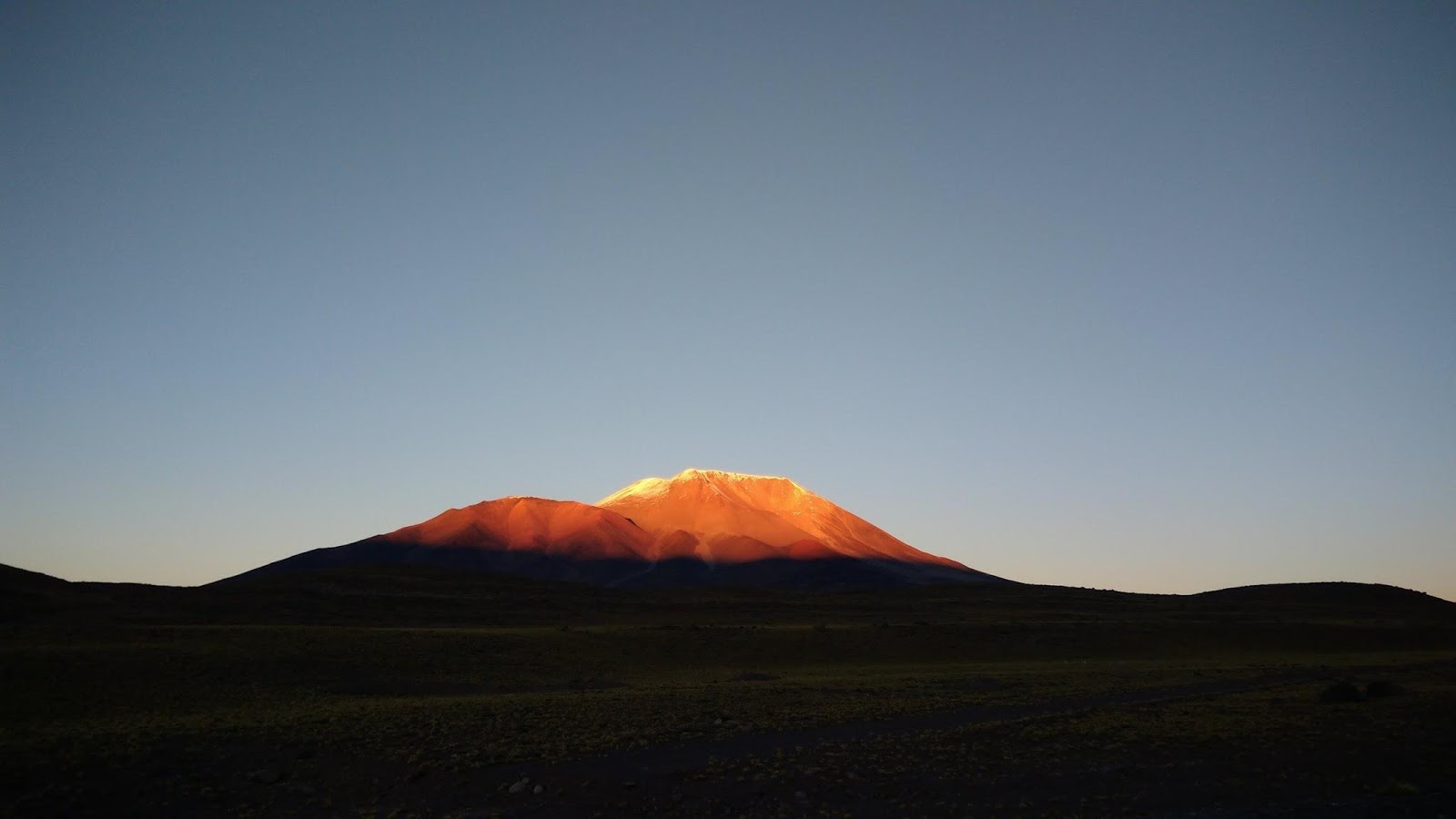 So windy. The road was well-paved, should be 100% ridable, but we pushed. Pushing is faster than struggling to ride.
なんのこともないきれいな舗装路ですが、暴風でプッシングです。乗るより押したほうが速いので。トレインでプッシングしてました。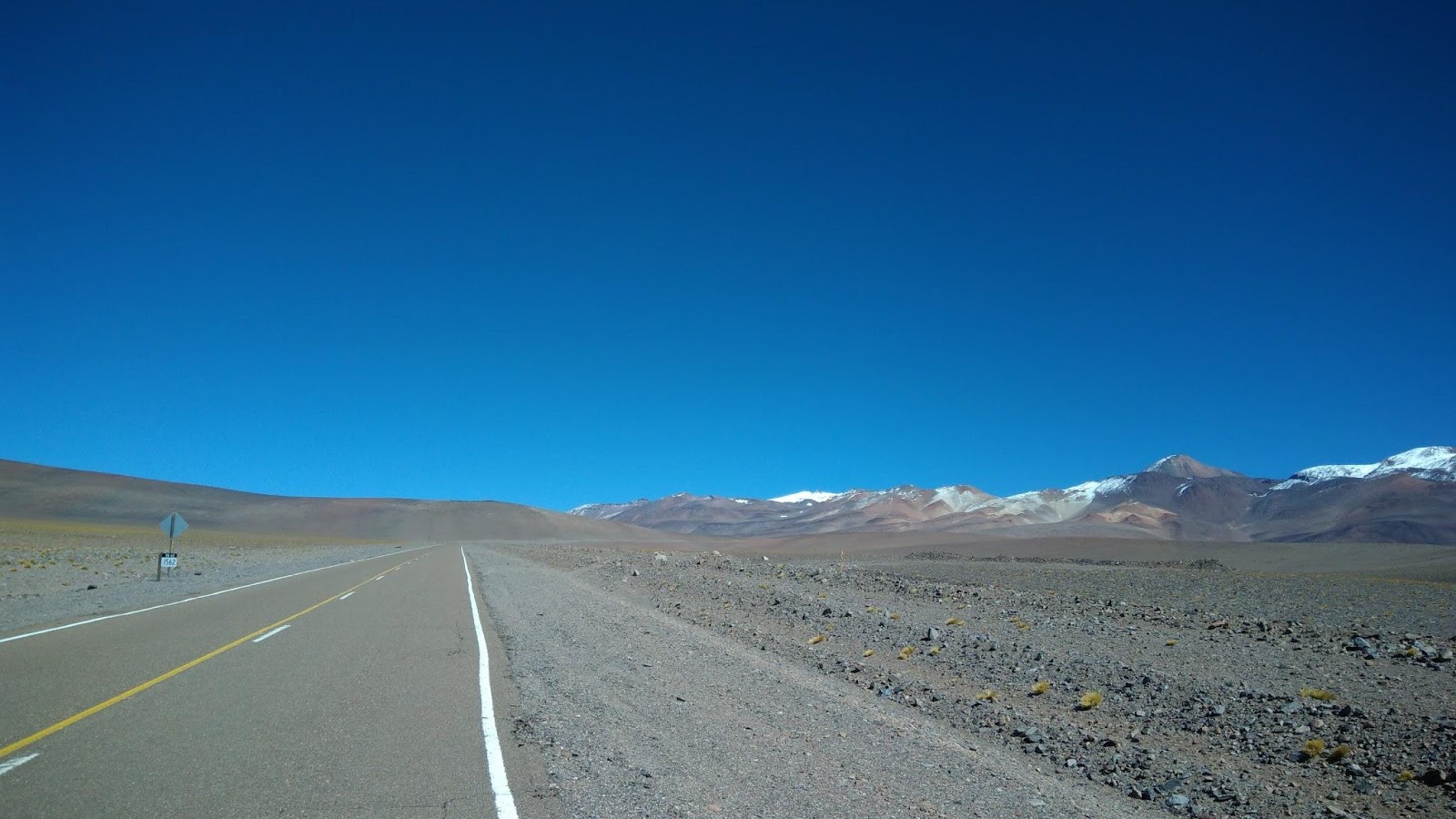 13km ride and 8km pushing, 6h of climbing. We made it to the pass!
峠までの21kmのうち13kmしか乗れませんでした。6時間もかかった。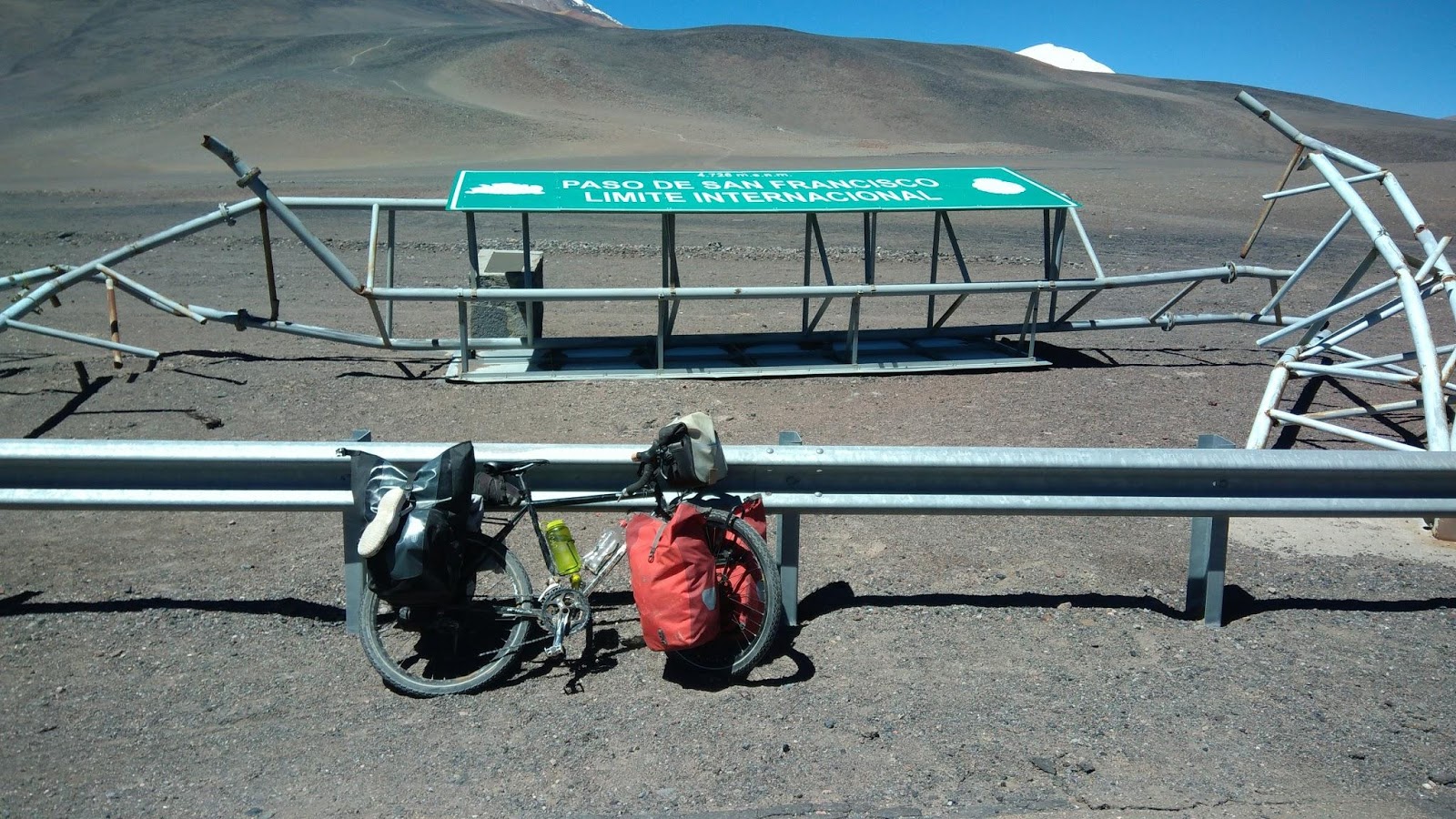 After the pass the chilean side is gravel, a bit sandy and some washboards.
峠から先はチリになります。そこからダート。これがまた向かい風ダートで、乗れはするもののダウンでインナー使うくらいです。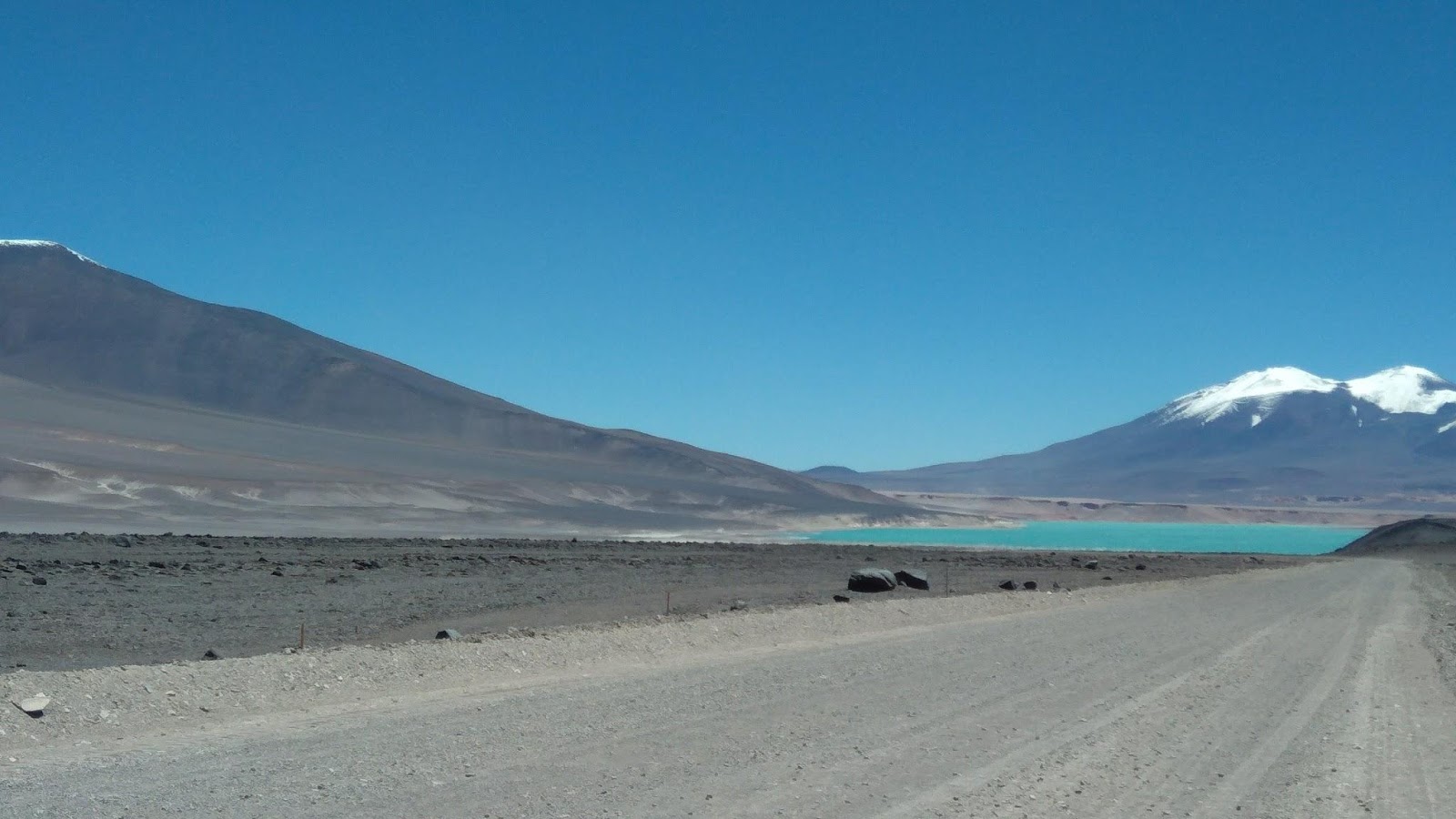 We met some trucks on the way to Laguna verde, which was the cause of sandstorm;
This flat gravel road was so tough. Strong headwind and poor road surface.
For next challengers; There is a water spot at about 2km before the laguna. Turn left(from argentina) to the jeep track and continue just 5 min on foot. There is water coming out from a tube. It tastes slightly salty but I think is okay for drinking.
We planned to stay in the Refugio at Laguna verde, but 2km before that there was a construction site beside the former immigration, carabineros, and the worker there told us that the Refugio is crowded with climbers. So we decided to stay in the abandoned carabineros. The guy gave us a lot of bottled water and even offered a kitchen.
暴風の中、路面もぼこぼこ&砂な上にたまにトラックが砂嵐を巻き上げていくので、ダウンなのにしんどい。テンバ予定地の2km手前の4300m地点に旧イミグレがあり、工事をやっていて水を分けてもらえたのでそこでテンバらせてもらうことに。期せずして室内テンバ。パンかじって就寝。この夜の星空は一生忘れない。
day22 abandoned carabineros to chilean immigration
The road construction is on going in this section. When we cycled, March 2018, the first km was still gravel but the rest was paved.
この日はチリ側のイミグレを目指してダートを走ります。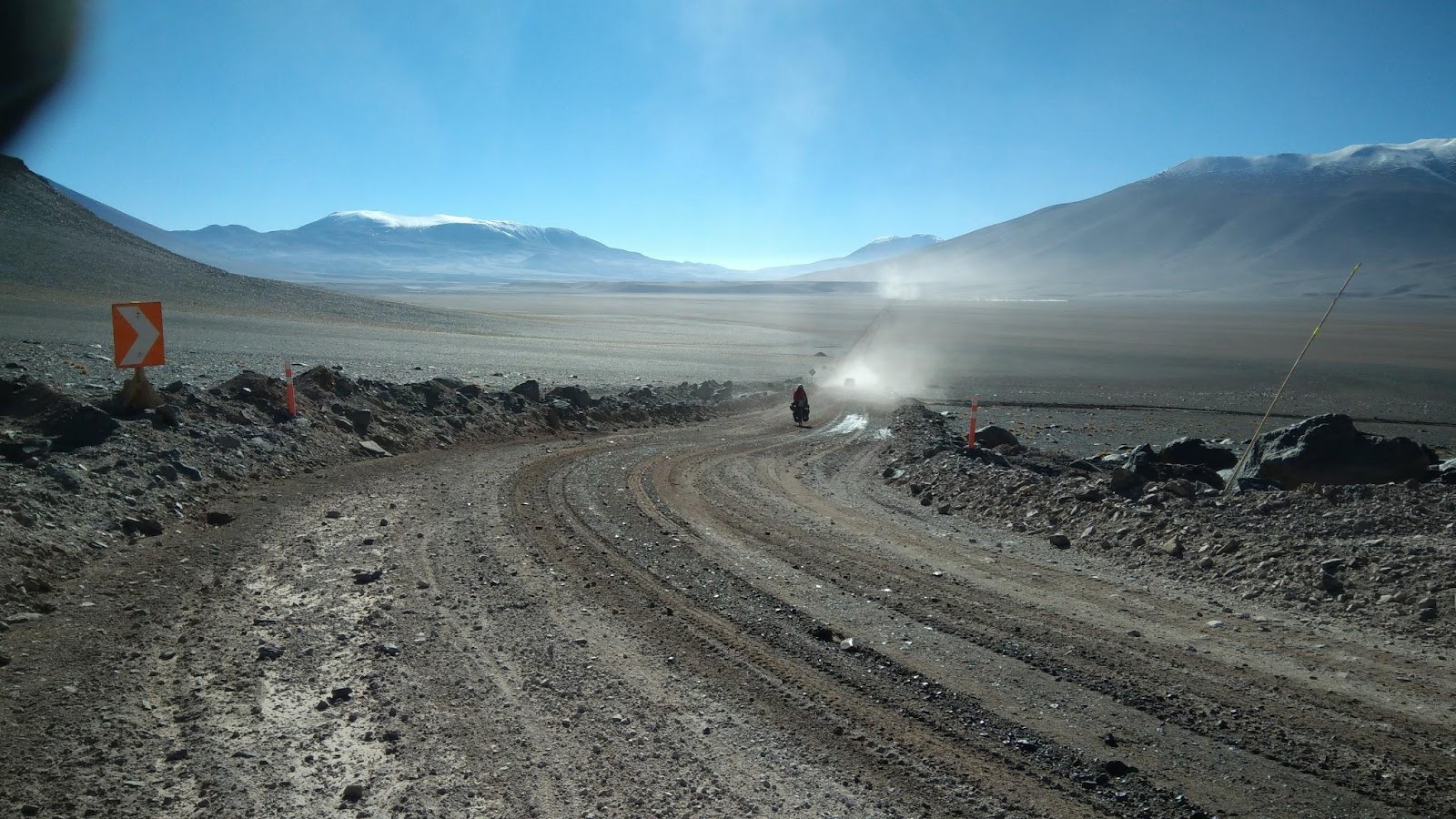 The chilean immigration is a big building with a dormitory. They let us stay there for free. No wifi but 4G available, no shower, no kitchen, no drinking water(okay after treatment).
The SAG personnel there was very friendly. He opened our bags but not all, and did not search deep into the bag. Breads, biscuits, canned pate, tuna, protein powder, some cereals, they were no problem.
チリ側のイミグレは大きくて立派な建物で、言えば無料でドミトリーに泊めてくれます。キッチンやシャワーはなし、水は出るので飲み水はどうにかなります。
day23 immigration to copiapo, 180km
My friend said he wanted to make it to copiapo that day and drink cold coca-cola, so we decided to do 180km that day. As we did when the pass itself, we started before sunrise.
コピアポまで下ります。2日かけるつもりでしたが後輩がさっさと下りたいというので180km一日で漕ぐことになりました。例によって日の出前に出発。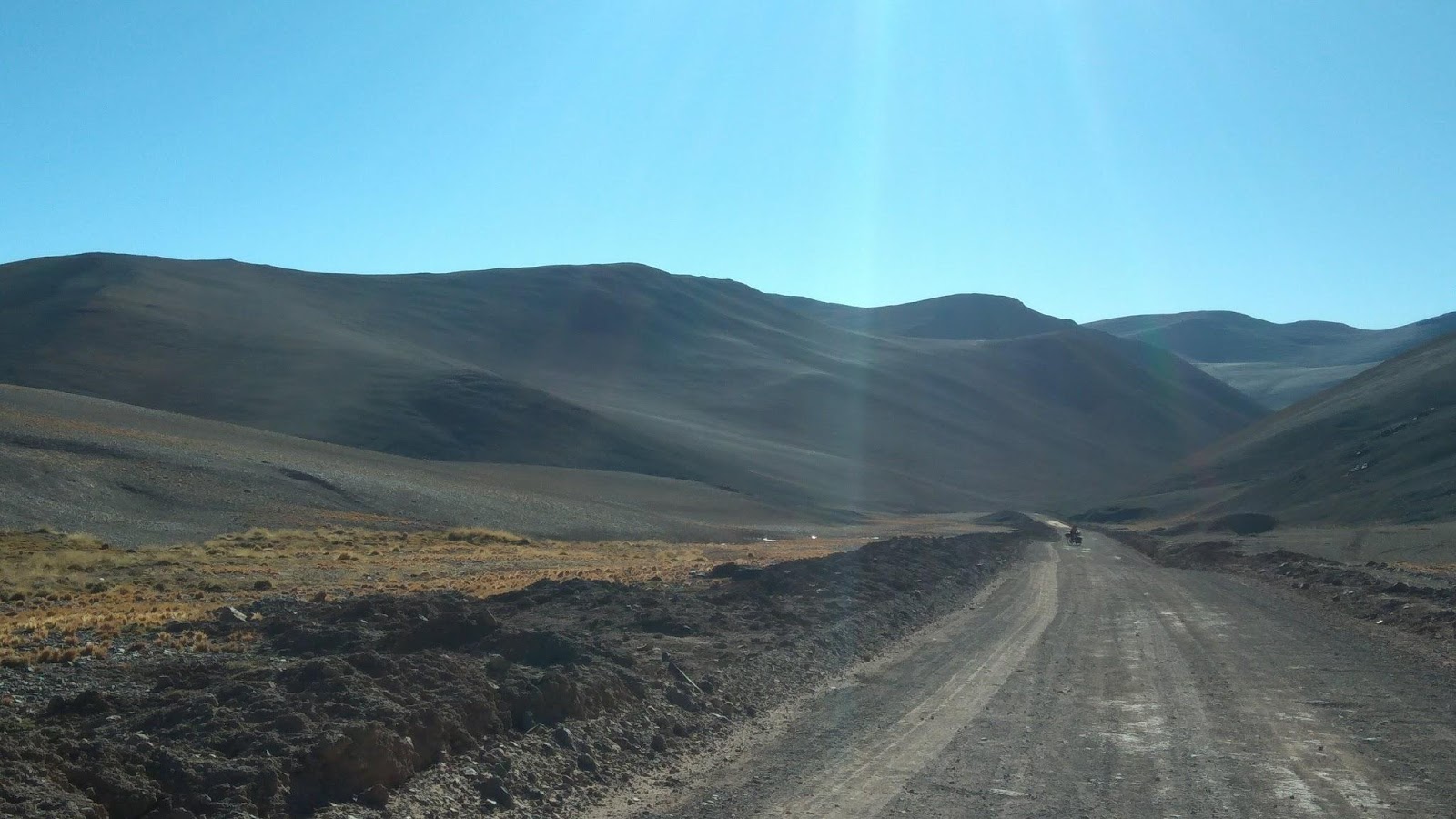 The immigration locates at 3800m. To copiapo, climb up to 4300m and then all down to 390m. This is the last dirt climb - goodbye, altiplano.下ると言っても4300の峠を越えないといけません。舗装だと思っていたらそこもダートでした。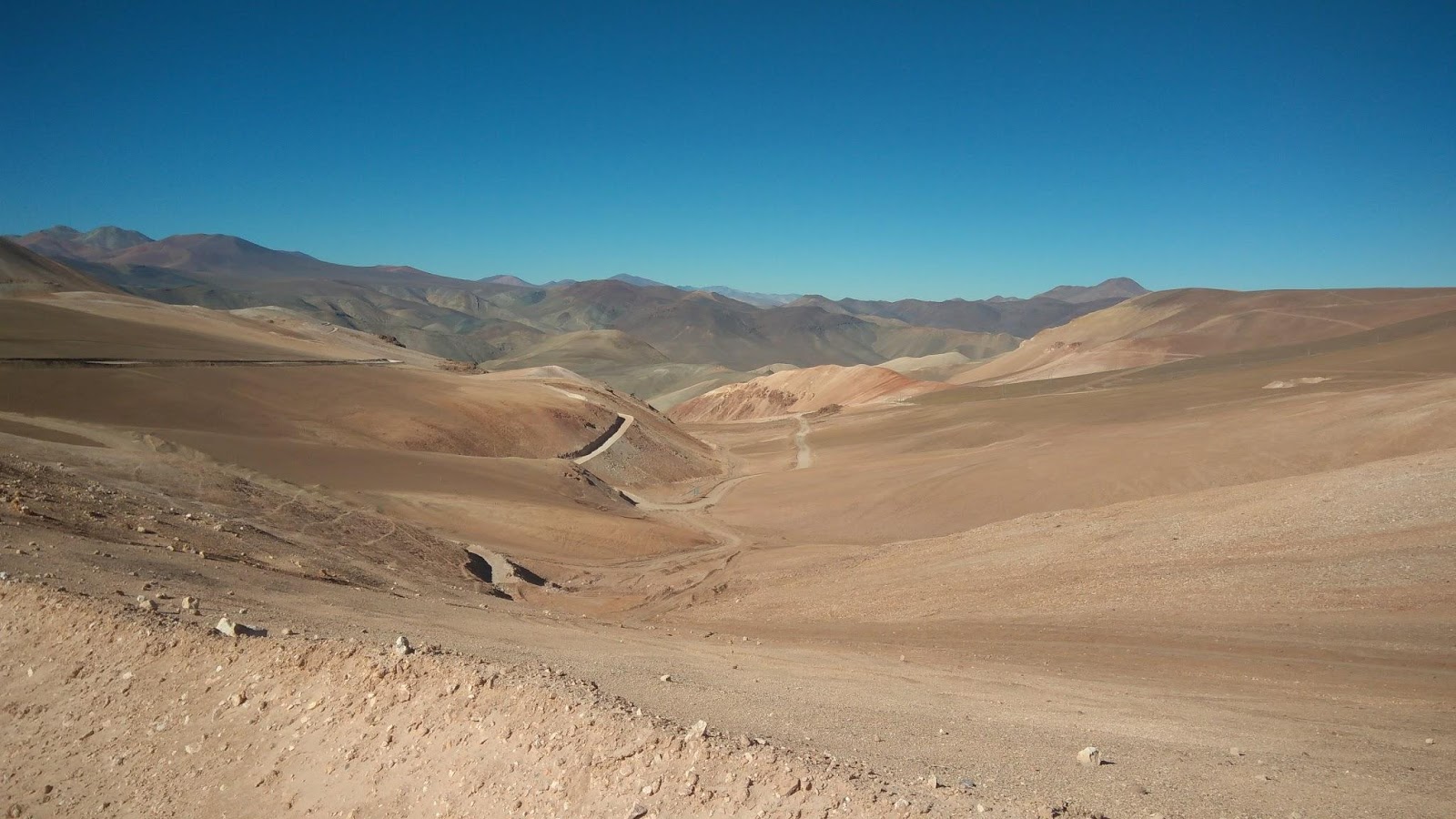 The road seemed to be paved once but was broken. Some asphalt was around, but gravel. After several kilometers of steep down the road was almost flat and the headwind made us pedaling a lot. The surface was not good even on the asphalt. Hard day.
4300mからコピアポ(390m)まで全ダウンではあるのですが、距離が長すぎて結局ほとんどフラット、何なら向かい風なので爆漕ぎしないと進みません。舗装とはいえあまり状態は良くなく、かなり大変でした。下界になったあたりで車が急に止まって、何かと思ったら冷たいジュースをくれました。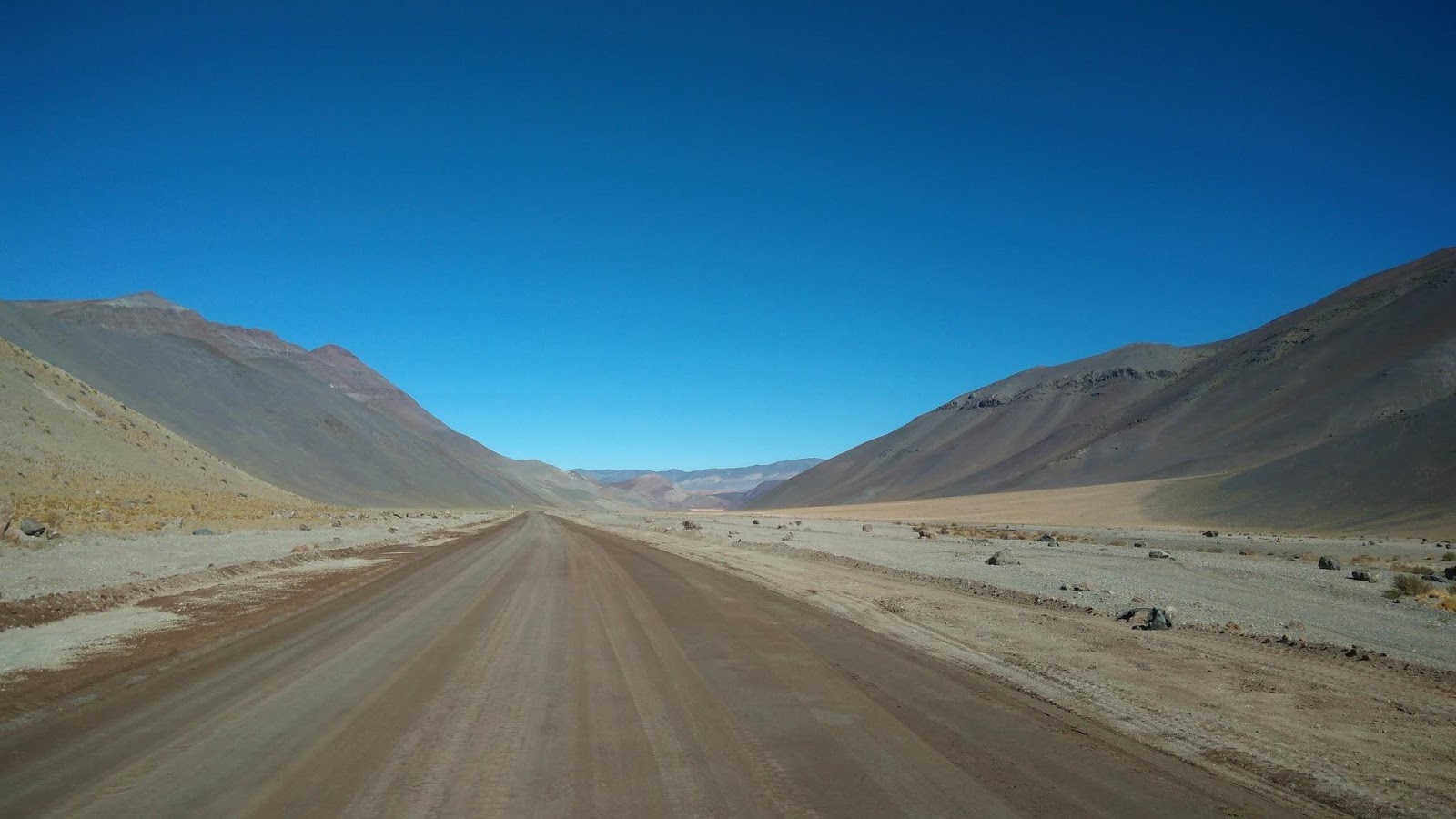 Finally we made it to copiapo and had asado for dinner, celebrating finishing the pass and the end of our cycling. Then took a bus to santiago.
Turbus carries your bike as long as they have enough room for your bike, but they charge you 7000CLP.
何とかコピアポにたどりつき、肉を食べました。達成感はありましたが、終わってしまったのかと思うと何とも言えない気持ちでした。このあとサンティアゴに輪行して行程終了です。